Ecological and Epidemiological Analyses of Multiple Sclerosis Relapse Rate
Oikonen, Mervi (2010-02-05)
---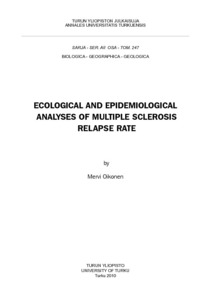 Turun yliopisto Annales Universitatis Turkuensis A II 247
05.02.2010
Julkaisun pysyvä osoite on:
http://urn.fi/URN:ISBN:978-951-29-4205-3
Kuvaus
Siirretty Doriasta
Tiivistelmä
The underlying cause of many human autoimmune diseases is unknown, but several environmental factors are implicated in triggering the self-destructive immune reactions. Multiple Sclerosis (MS) is a chronic autoimmune disease of the central nervous system, potentially leading to persistent neurological deterioration. The cause of MS is not known, and apart from immunomodulatory treatments there is no cure. In the early phase of the disease, relapsing-remitting MS (RR-MS) is characterized by unpredictable exacerbations of the neurological symptoms called relapses, which can occur at different intervals ranging from 4 weeks to several years.

Microbial infections are known to be able to trigger MS relapses, and the patients are instructed to avoid all factors that might increase the risk of infections and to properly use antibiotics as well as to take care of dental hygiene. Among those environmental factors which are known to increase susceptibility to infections, high ambient air inhalable particulate matter levels affect all people within a geographical region. During the period of interest in this thesis, the occurrence of MS relapses could be effectively reduced by injections of interferon, which has immunomodulatory and antiviral properties. In this thesis, ecological and epidemiological analyses were used to study the possible connection between MS relapse occurrence, population level viral infections and air quality factors, as well as the effects of interferon medication. Hospital archive data were collected retrospectively from 1986-2001, a period in time ranging from when interferon medication first became available until just before other disease-modifying MS therapies arrived on the market. The grouped data were studied with logistic regression and intervention analysis, and individual patient data with survival analysis.

Interferons proved to be effective in the treatment of MS in this observational study, as the amount of MS exacerbations was lower during interferon use as compared to the time before interferon treatment. A statistically significant temporal relationship between MS relapses and inhalable particular matter (PM10) concentrations was found in this study, which implies that MS patients are affected by the exposure to PM10. Interferon probably protected against the effect of PM10, because a significant increase in the risk of exacerbations was only observed in MS patients without interferon medication following environmental exposure to population level specific viral infections and PM10. Apart from being antiviral, interferon could thus also attenuate the enhancement of immune reactions caused by ambient air PM10. The retrospective approach utilizing carefully constructed hospital records proved to be an economical and reliable source of MS disease information for statistical analyses.