On the Properties and Cosmology of Q-balls
Multamäki, Tuomas (2001)
---
On the Properties and Cosmology of Q-balls
(2001)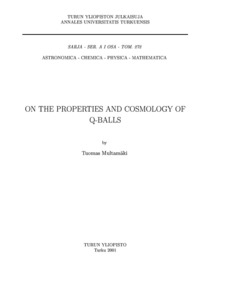 Turun yliopisto Annales Universitatis Turkuensis AI 272
Tuomas Multamäki
Kuvaus
Siirretty Doriasta
Tiivistelmä
The properties and cosmological importance of a class of non-topological solitons, Q-balls, are studied. Aspects of Q-ball solutions and Q-ball cosmology discussed in the literature are reviewed. Q-balls are particularly considered in the Minimal Supersymmetric Standard Model with supersymmetry broken by a hidden sector mechanism mediated by either gravity or gauge interactions.
Q-ball profiles, charge-energy relations and evaporation rates for realistic Q-ball profiles are calculated for general polynomial potentials and for the gravity mediated scenario. In all of the cases, the evaporation rates are found to increase with decreasing charge.



Q-ball collisions are studied by numerical means in the two supersymmetry breaking scenarios. It is noted that the collision processes can be divided into three types: fusion, charge transfer and elastic scattering. Cross-sections are calculated for the different types of processes in the different scenarios.



The formation of Q-balls from the fragmentation of the Aflieck-Dine -condensate is studied by numerical and analytical means. The charge distribution is found to depend strongly on the initial energy-charge ratio of the condensate. The final state is typically noted to consist of Q- and anti-Q-balls in a state of maximum entropy.



By studying the relaxation of excited Q-balls the rate at which excess energy can be emitted is calculated in the gravity mediated scenario. The Q-ball is also found to withstand excess energy well without significant charge loss. The possible cosmological consequences of these Q-ball properties are discussed.