Tartrate-Resistant Acid Phosphatase 5b: a Serum Marker of Bone Resorption
Alatalo, Sari (2004)
---
Tartrate-Resistant Acid Phosphatase 5b: a Serum Marker of Bone Resorption
(2004)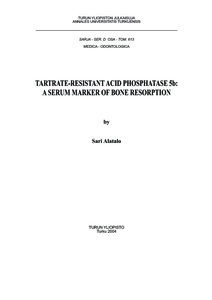 Turun yliopisto
Sari Alatalo
Kuvaus
Siirretty Doriasta
Tiivistelmä
Bone is a physiologically dynamic tissue being constantly regenerated throughout life as a consequence of bone turnover by bone-resorbing osteoclasts and bone-forming osteoblasts. In certain bone diseases, such as osteoporosis, the imbalance in bone turnover leads to bone loss and increased fracture risk. Measurement of bone mineral density (BMD) predicts the risk of fracture, but also biochemical markers of bone metabolism have been suggested to be suitable for prediction of fractures and monitoring the efficacy of antiresorptive treatment.

Tartrate-resistant acid phosphatase 5b (TRACP 5b) is an enzyme released from osteoclasts into the circulation, from where it can be detected kinetically or immunologically. Conventional assays for serum total TRACP were spectrophotometric and suffered from interference by other acid phosphatases and non-osteoclastic TRACP 5a isoform. Our aim was to develop novel immunoassays for osteoclastic TRACP 5b.

Serum TRACP 5b levels were elevated in individuals with high bone turnover, such as children, postmenopausal women, patients with osteoporosis, Paget's disease and breast cancer patients with bone metastases. As expected, hormone replacement therapy (HRT) in postmenopausal women decreased the levels of serum TRACP 5b. Surprisingly, the highest TRACP 5b levels were observed in individuals with rare autosomal dominant osteopetrosis type II (ADO2), which is characterized by high BMD and fracture risk with simultaneously elevated levels of deficient osteoclasts. In ADO2 patients, elevated levels of serum TRACP 5b were associated with high fracture frequency. It is likely that serum TRACP 5b reflects the number of inactive osteoclasts in ADO2. Similar results supporting the hypothesis that TRACP 5b would reflect the number of osteoclasts instead of their activity were observed with cultured osteoclasts and in animal models.

Novel TRACP 5b immunoassays may prove to be of value either as independent or combinatory tools with other bone metabolic markers and BMD measurements in clinical practice and bone research.