Secondary Aural Symptoms in Relation to Cranio-Cervical and General Disorders
Kuttila, Seppo (2003)
---
Secondary Aural Symptoms in Relation to Cranio-Cervical and General Disorders
(2003)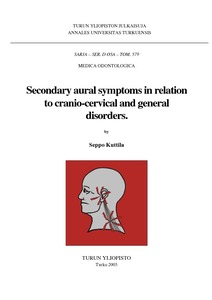 Turun yliopisto
Kuttila, Seppo
Julkaisun pysyvä osoite on:
https://urn.fi/URN:ISBN:951-29-2628-8
Julkaisun pysyvä osoite on:
https://urn.fi/URN:ISBN:951-29-2628-8
Kuvaus
Siirretty Doriasta
Tiivistelmä
The present thesis comprises two study populations. The first study sample (SS1) consisted of 411 adults examined and interviewed at three annual visits. The second study sample (SS2) consisted of 1720 adults who filled in a mailed questionnaire about secondary otalgia, tinnitus and fullness of ears. In the second phase of the SS2, 100 subjects with otalgia were examined and interviewed by specialist in stomatognathic physiology and otorhinolaryngology. In the third phase, 36 subjects participated in a randomized, controlled and blinded trial of effectiveness of occlusal appliance on secondary otalgia, facial pain, headache and treatment need of temporomandibular disorders (TMD).

The standardized prevalence of recurrent secondary otalgia was 6%, tinnitus 15% and fullness of ears 8%. Aural symptoms were more frequent among young than old subjects. They were associated with other, simultaneous aural symptoms, TMD pain, head and neck region pain, and visits to a physician. The subjects with aural symptoms more often had tenderness on palpation of masticatory muscles and clinical signs of temporomandibular joint than the subjects without. 85% of the subjects reporting secondary otalgia had cervical spine or temporomandibular disorder or both. In SS1, the final model of secondary otalgia included active need treatment for TMD, elevated level of stress symptoms, and bruxism. In SS2, the final models of aural symptoms included associated aural symptoms, young age, TMD pain, headache and shoulder ache. Stabilization splint more effectively alleviated secondary otalgia and active treatment need for TMD than a palatal control splint.

In patients with aural pain, tinnitus or fullness of ears, it is important to first rule out otologic and nasopharyngeal diseases that may cause the symptoms. If no explanation for aural symptoms is found, temporomandibular and cervical spine disorders should be rouled out to minimize unnecessary visits to a physician.