Clinical Learning Environment and Supervision. Development and Validation of the CLES Evaluation Scale
Saarikoski, Mikko (2002)
---
Clinical Learning Environment and Supervision. Development and Validation of the CLES Evaluation Scale
(2002)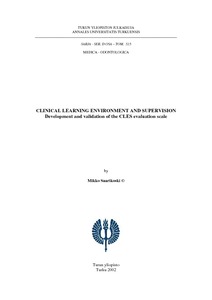 Turun yliopisto
Mikko Saarikoski
Kuvaus
Siirretty Doriasta
Tiivistelmä
The purpose of the study is: (1) to describe how nursing students' experienced their clinical learning environment and the supervision given by staff nurses working in hospital settings; and (2) to develop and test an evaluation scale of Clinical Learning Environment and Supervision (CLES).
The study has been carried out in different phases. The pilot study (n=163) explored the association between the characteristics of a ward and its evaluation as a learning environment by students. The second version of research instrument (which was developed by the results of this pilot study) were tested by an expert panel (n=9 nurse teachers) and test-retest group formed by student nurses (n=38). After this evaluative phase, the CLES was formed as the basic research instrument for this study and it was tested with the Finnish main sample (n=416). In this phase, a concurrent validity instrument (Dunn & Burnett 1995) was used to confirm the validation process of CLES. The international comparative study was made by comparing the Finnish main sample with a British sample (n=142). The international comparative study was necessary for two reasons. In the instrument developing process, there is a need to test the new instrument in some other nursing culture. Other reason for comparative international study is the reflecting the impact of open employment markets in the European Union (EU) on the need to evaluate and to integrate EU health care educational systems.

The results showed that the individualised supervision system is the most used supervision model and the supervisory relationship with personal mentor is the most meaningful single element of supervision evaluated by nursing students. The ward atmosphere and the management style of ward manager are the most important environmental factors of the clinical ward. The study integrates two theoretical elements - learning environment and supervision - in developing a preliminary theoretical model.

The comparative international study showed that, Finnish students were more satisfied and evaluated their clinical placements and supervision with higher scores than students in the United Kingdom (UK). The difference between groups was statistical highly significant (p= 0.000). In the UK, clinical placements were longer but students met their nurse teachers less frequently than students in Finland. Arrangements for supervision were similar.

This research process has produced the evaluation scale (CLES), which can be used in research and quality assessments of clinical learning environment and supervision in Finland and in the UK. CLES consists of 27 items and it is sub-divided into five sub-dimensions. Cronbach's alpha coefficient varied from high 0.94 to marginal 0.73. CLES is a compact evaluation scale and user-friendliness makes it suitable for continuing evaluation.