The Regulation of Skeletal and Cardiac Muscle Blood Flow in Humans. Studies by positron emission tomography with special reference to exercise, adenosine and nitric oxide
Heinonen, Ilkka (2010-02-19)
---
The Regulation of Skeletal and Cardiac Muscle Blood Flow in Humans. Studies by positron emission tomography with special reference to exercise, adenosine and nitric oxide
(19.02.2010)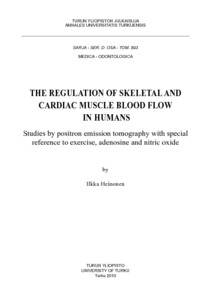 Turun yliopisto
Julkaisun pysyvä osoite on:
https://urn.fi/URN:ISBN:978-951-29-4210-7
Kuvaus
Siirretty Doriasta
Tiivistelmä
Virtually every cell and organ in the human body is dependent on a proper oxygen supply. This is taken care of by the cardiovascular system that supplies tissues with oxygen precisely according to their metabolic needs. Physical exercise is one of the most demanding challenges the human circulatory system can face. During exercise skeletal muscle blood flow can easily increase some 20-fold and its proper distribution to and within muscles is of importance for optimal oxygen delivery. The local regulation of skeletal muscle blood flow during exercise remains little understood, but adenosine and nitric oxide may take part in this process. In addition to acute exercise, long-term vigorous physical conditioning also induces changes in the cardiovasculature, which leads to improved maximal physical performance. The changes are largely central, such as structural and functional changes in the heart. The function and reserve of the heart's own vasculature can be studied by adenosine infusion, which according to animal studies evokes vasodilation via it's a2A receptors. This has, however, never been addressed in humans in vivo and also studies in endurance athletes have shown inconsistent results regarding the effects of sport training on myocardial blood flow. This study was performed on healthy young adults and endurance athletes and local skeletal and cardiac muscle blod flow was measured by positron emission tomography. In the heart, myocardial blood flow reserve and adenosine A2A receptor density, and in skeletal muscle, oxygen extraction and consumption was also measured. The role of adenosine in the control of skeletal muscle blood flow during exercise, and its vasodilator effects, were addressed by infusing competitive inhibitors and adenosine into the femoral artery. The formation of skeletal muscle nitric oxide was also inhibited by a drug, with and without prostanoid blockade. As a result and conclusion, it can be said that skeletal muscle blood flow heterogeneity decreases with increasing exercise intensity most likely due to increased vascular unit recruitment, but exercise hyperemia is a very complex phenomenon that cannot be mimicked by pharmacological infusions, and no single regulator factor (e.g. adenosine or nitric oxide) accounts for a significant part of exercise-induced muscle hyperemia. However, in the present study it was observed for the first time in humans that nitric oxide is not only important regulator of the basal level of muscle blood flow, but also oxygen consumption, and together with prostanoids affects muscle blood flow and oxygen consumption during exercise. Finally, even vigorous endurance training does not seem to lead to supranormal myocardial blood flow reserve, and also other receptors than A2A mediate the vasodilator effects of adenosine. In respect to cardiac work, atheletes heart seems to be luxuriously perfused at rest, which may result from reduced oxygen extraction or impaired efficiency due to pronouncedly enhanced myocardial mass developed to excel in strenuous exercise.