Inactive endosialidase-based detection of bacterial and oncofetal polysialic acid
Jokilammi, Anne (2010-03-05)
---
Inactive endosialidase-based detection of bacterial and oncofetal polysialic acid
(05.03.2010)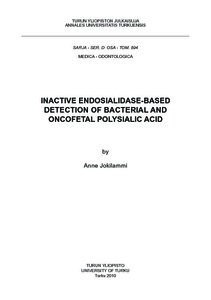 Turun yliopisto
Julkaisun pysyvä osoite on:
https://urn.fi/URN:ISBN:978-951-29-4212-1
Kuvaus
Siirretty Doriasta
Tiivistelmä
Polysialic acid is a carbohydrate polymer which consist of N-acetylneuraminic acid units joined by alpha2,8-linkages. It is developmentally regulated and has an important role during normal neuronal development. In adults, it participates in complex neurological processes, such as memory, neural plasticity, tumor cell growth and metastasis. Polysialic acid also constitutes the capsule of some meningitis and sepsis-causing bacteria, such as Escherichia coli K1, group B meningococci, Mannheimia haemolytica A2 and Moraxella nonliquefaciens. Polysialic acid is poorly immunogenic; therefore high affinity antibodies against it are difficult to prepare, thus specific and fast detection methods are needed.

Endosialidase is an enzyme derived from the E. coli K1 bacteriophage, which specifically recognizes and degrades polysialic acid. In this study, a novel detection method for polysialic acid was developed based on a fusion protein of inactive endosialidase and the green fluorescent protein. It utilizes the ability of the mutant, inactive endosialidase to bind but not cleave polysialic acid. Sequencing of the endosialidase gene revealed that amino acid substitutions near the active site of the enzyme differentiate the active and inactive forms of the enzyme.

The fusion protein was applied for the detection of polysialic acid in bacteria and neuroblastoma. The results indicate that the fusion protein is a fast, sensitive and specific reagent for the detection of polysialic acid. The use of an inactive enzyme as a specific molecular tool for the detection of its substrate represents an approach which could potentially find wide applicability in the specific detection of diverse macromolecules.