Role of ErbB2 and ErbB4 in Cancer Growth, Prognosis and as Targets for Immunotherapy
Hollmén, Maija (2010-03-19)
---
Role of ErbB2 and ErbB4 in Cancer Growth, Prognosis and as Targets for Immunotherapy
(19.03.2010)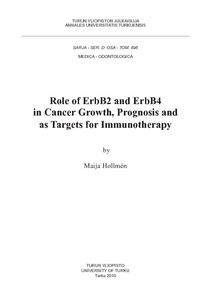 Turun yliopisto
Julkaisun pysyvä osoite on:
https://urn.fi/URN:ISBN:978-951-29-4232-9
Kuvaus
Siirretty Doriasta
Tiivistelmä
ErbB receptors (EGFR, ErbB2, ErbB3 and ErbB4) are growth factor receptors that regulate signals of cell differentiation, proliferation, migration and survival. Inappropriate activation of these receptors is associated with the development and severity of many cancers and has prognostic and predictive value in cancer therapy. Drugs, such as therapeutic antibodies, targeted against EGFR and ErbB2, are currently used in therapy of breast, colorectal and head and neck cancers.

The role of ErbB4 in tumorigenesis has remained relatively poorly understood. Alternative splicing produces four different isoforms of one ErbB4 gene. These isoforms (JM-a, JM-b, CYT-1 and CYT-2) are functionally dissimilar and proposed to have different roles in carcinogenesis. The juxtamembrane form JM-a undergoes regulated intramembrane proteolysis producing a soluble receptor ectodomain and an intracellular domain that translocates into the nucleus and regulates transcription. Nuclear signaling via JM-a isoform stimulates cancer cell proliferation.

This study aimed to develop antibodies targeting the proposed oncogenic ErbB4 JM-a isoform that show potential in inhibiting ErbB4 dependent tumorigenesis. Also, the clinical relevance of ErbB4 shedding in cancer was studied. The currently used monoclonal antibody trastuzumab, targeting ErbB2, has shown efficacy in breast cancer therapy. In this study novel tissues with ErbB2 amplification and trastuzumab sensitivity were analyzed.

The results of this study indicated that a subpopulation of breast cancer patients demonstrate increased shedding and cleavage of ErbB4. A JM-a isoform-specific antibody that inhibited ErbB4 shedding and consequent activation of ErbB4 had anti-tumor activity both in vitro and in vivo. Thus, ErbB4 shedding associates with tumor growth and specific targeting of the cleavable JM-a isoform could be considered as a strategy for developing novel ErbB-based cancer drugs. In addition, it was demonstrated that ErbB2 amplification is common in intestinal type gastric cancers with poor clinical outcome. Trastuzumab inhibited growth of gastric and breast cancer cells with equal efficacy. Thus, ErbB2 may be a useful target in gastric cancer.