Sensitive Troponin Assays: Diagnostic and Prognostic Use in Cardiology
Ilva, Tuomo (2010-05-12)
---
Sensitive Troponin Assays: Diagnostic and Prognostic Use in Cardiology
(12.05.2010)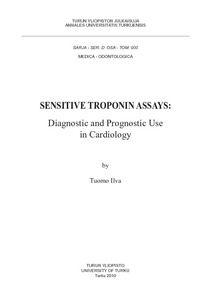 Turun yliopisto
Julkaisun pysyvä osoite on:
https://urn.fi/URN:ISBN:978-951-29-4264-0
Kuvaus
Siirretty Doriasta
Tiivistelmä
Cardiac troponins (cTns) are the recommended biochemical markers in the diagnosis of myocardial infarction (MI). They are very sensitive and tissue-specific but are limited by their delayed appearance in the circulation. Biochemical markers with more rapid release kinetics, e.g. myoglobin and especially heart-type fatty acid-binding protein (H-FABP), have been used to enhance the early identification of MI. The implementation of cTns into clinical practice has shown that cardiomyocyte injury occurs in many other clinical conditions than MI.

The aim of this study was to evaluate the impact of modern and highly sensitive cTnI assays on the early diagnosis of MI. In a patient cohort with suspected MI, such a sensitive cTnI assay enhanced the early diagnostic accuracy when compared to a less sensitive cTnI assay and to myoglobin. When compared to H-FABP during the early hours after symptom onset, the sensitive cTnI assay showed at least similar and, after 6 hours, superior diagnostic accuracy. A positive cTnI test result had superior prognostic value when compared to H-FABP, even among early presenters.

The prognostic value of cTn in acute heart failure (AHF) was evaluated in 364 patients who participated in the FINN-AKVA study. The patients presented with AHF but no acute coronary syndrome (ACS). Up to half of the patients had elevated cTn levels which were associated with higher 6-month mortality. The magnitude of cTn elevation was directly proportional to mortality.

Finally, the clinical spectrum of cTnI elevations was evaluated in 991 cTnI positive emergency department (ED) patients. 83% of the patients had MI and 17% had cTnI elevation due to other clinical conditions. The latter patient group was characterized by lower absolute cTnI levels and – importantly – higher in-hospital mortality when compared to the MI patients.

In conclusion, the use of a highly sensitive cTnI assay enhances the early diagnostic accuracy and risk stratification in suspected MI patients. Cardiac troponin elevations are highly prevalent also in other acute clinical conditions and indicate an adverse outcome of these patients.