New mechanisms regulating human Th1 and Th2 cell differentiation
Tahvanainen, Johanna (2010-05-14)
---
New mechanisms regulating human Th1 and Th2 cell differentiation
(14.05.2010)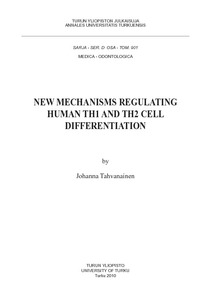 Turun yliopisto
Julkaisun pysyvä osoite on:
https://urn.fi/URN:ISBN:978-951-29-4276-3
Kuvaus
Siirretty Doriasta
Tiivistelmä
Selective development of human T helper (Th) cells into functionally distinct Th1 and Th2 subtypes plays an essential role in the host immune response towards pathogens. However, abnormal function or differentiation of these cells can lead to development of various autoimmune diseases as well as asthma and allergy. Therefore, identification of key factors and the molecular mechanisms mediating Th1 and Th2 cell differentiation is important for understanding the molecular mechanisms of these diseases. The goal of this study was to identify novel factors involved in the regulation of Th1 and Th2 differentiation processes. A new method was optimized for enrichment of transiently transfected resting human primary T lymphocytes, that allowed the study of the influence of genes of interest in human Th1/Th2 cell differentiation and other primary Th cell functions. Functional characterization of PRELI, a novel activation-induced protein in human Th cells, identified it as a mitochondrial protein involved in the regulation of Th cell differentiation and apoptosis. By influencing the intracellular redox state, PRELI induces mitochondrial apoptosis pathway and downregulates STAT6 and Th2 differentiation. The data suggested that Calpain, an oxidative stress induced cysteine protease, is involved as a mediator in PRELI-induced downregulation of STAT6. PIM serine/threonine-specific kinases were identified as new regulators of human Th1 cell differentiation. PIM1 and PIM2 kinases were shown to be preferentially expressed in Th1 cells as compared to Th2 cells. RNA interference studies showed that PIM kinases enhance the production of IFN, the hallmark cytokine produced by Th1 cells. They also induce the expression of the key Th1-driving factor T-bet and the IL-12 signaling pathway during early phases of Th1 cell differentiation. Taken together, new regulators of human T helper cell differentiation were identified in this study, which provides new insights into the signaling mechanisms controlling the selective activation of human Th cell subsets.