Conformational Regulation of alpha2beta1 Integrin in Ligand Binding
Jokinen, Johanna (2010-06-18)
---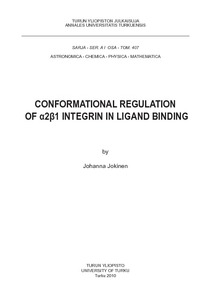 Turun yliopisto Annales UniversitatisTurkuensis A I 407
18.06.2010
Julkaisun pysyvä osoite on:
http://urn.fi/URN:ISBN:978-951-29-4302-9
Kuvaus
Siirretty Doriasta
Tiivistelmä
Integrins are heterodimeric cell adhesion receptors involved in cell-cell and cell-extracellular matrix (ECM) interactions. They transmit bidirectional signals across the cell membrane. This results in a wide range of biological events from cell differentiation to apoptosis. alpha2beta1 integrin is an abundant collagen receptor expressed on the surface of several cell types. In addition to ECM ligands, alpha2beta1 integrins are bound by echovirus 1 (EV1) which uses alpha2beta1 as a receptor to initiate its life cycle in the infected cell. The aim of this thesis project was to provide further insight into the mechanisms of alpha2beta1 integrin ligand recognition and receptor activation.

Collagen fibrils are the principal tensile elements of the ECM. Yet, the interaction of alpha2beta1 integrin with the fibrillar form of collagen I has received relatively little attention. This research focused on the ability of alpha2beta1 integrin to act as a receptor for type I collagen fibrils. Also the molecular requirements of the EV1 interaction with alpha2beta1 were studied. Conventionally, ligand binding has been suggested to require integrin activation and the binding may further trigger integrin signalling. Another main objective of this study was to elucidate both the inside-out and outside-in signalling mechanisms of alpha2beta1 integrin in adherent cells.

The results indicated that alpha2beta1 integrin is the principal integrin-type collagen receptor for type I collagen fibrils, and alpha2beta1 may participate in the regulation of pericellular collagen fibrillogenesis. Furthermore, alpha2beta1 integrin inside-out activation appeared to be synergistically regulated by integrin clustering and conformational activation. The triggering of alpha2beta1 integrin outside-in signalling, however, was shown to require both conformational changes and clustering. In contrast to ECM ligands, EV1 appeared to take advantage of the bent, inactive form of alpha2beta1 integrin in initiating its life cycle in the cell. This research together with other recent studies, has shed light on the molecular mechanisms of integrin activation. It is becoming evident that large ligands are able to bind to the bent form of integrin, which has been previously considered to be physiologically inactive. Consequently, our understanding of the conformational modulation of integrins upon activation is changing.