Acid-base Balance and Oxidative Metabolism in Calcified Tissues
Riihonen, Riikka (2010-06-11)
---
Acid-base Balance and Oxidative Metabolism in Calcified Tissues
(11.06.2010)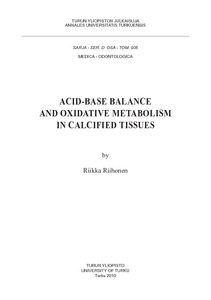 Turun yliopisto
Julkaisun pysyvä osoite on:
https://urn.fi/URN:ISBN:978-951-29-4308-1
Kuvaus
Siirretty Doriasta
Tiivistelmä
The calcified tissues, comprising bone and cartilage, are metabolically active tissues that bind and release calcium, bicarbonate and other substances according to systemic needs. Understanding the regulation of cellular metabolism in bone and cartilage is an important issue, since a link between the metabolism and diseases of these tissues is clear. An essential element in the function of bone-resorbing osteoclasts, namely regulation of bicarbonate transport, has not yet been thoroughly studied. Another example of an important but at the same time fairly unexplored subject of interest in this field is cartilage degeneration, an important determinant for development of osteoarthritis. The link between this and oxidative metabolism has rarely been studied.

In this study, we have investigated the significance of bicarbonate transport in osteoclasts. We found that osteoclasts possess several potential proteins for bicarbonate transport, including carbonic anhydrase IV and XIV, and an electroneutral bicarbonate co-transporter NBCn1. We have also shown that inhibiting the function of these proteins has a significant impact on bone resorption and osteoclast morphology. Furthermore, we have explored oxidative metabolism in chondrocytes and found that carbonic anhydrase III (CA III), a protein linked to the prevention of protein oxidation in muscle cells, is also present in mouse chondrocytes, where its expression correlates with the presence of reactive oxygen species. Thus, our study provides novel information on the regulation of cellular metabolism in calcified tissues.