Genesis and Emplacement of Carbonatites and Lamprophyres in the Svecofennian Domain
Woodard, Jeremy (2010-08-31)
---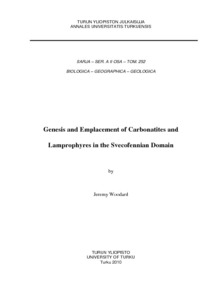 Turun yliopisto Annales Universitatis Turkuensis A II 252
31.08.2010
Julkaisun pysyvä osoite on:
http://urn.fi/URN:ISBN:978-951-29-4339-5
Kuvaus
Siirretty Doriasta
Tiivistelmä
A small carbonatite dyke swarm has been identified at Naantali, southwest Finland. Several swarms of shoshonitic lamprophyres are also known along the Archean-Proterozoic boundary in eastern Finland and northwest Russia. These intrusions, along with the carbonatite intrusion at Halpanen, eastern Finland, represent a stage of widespread low-volume mantle-sourced alkaline magmatism in the Svecofennian Domain. Using trace element and isotope geochemistry coupled with precise geochronology from these rocks, a model is presented for the Proterozoic metasomatic evolution of the Fennoscandian subcontinental lithospheric mantle. At ~2.2-2.06 Ga, increased biological production in shallow seas linked to continental rifting, resulted in increased burial rates of organic carbon. Subduction between ~1.93-1.88 Ga returned organic carbon-enriched sediments of mixed Archean and Proterozoic provenance to the mantle. Dehydration reactions supplied water to the mantle wedge, driving arc volcanism, while mica, amphibole and carbonate were brought deeper into the mantle with the subducting slab. The cold subducted slab was heated conductively from the surrounding warm mantle, while pressures continued to gradually increase as a result of crustal thickening. The sediments began to melt in a two stage process, first producing a hydrous alkaline silicate melt, which infiltrated the mantle wedge and crystallised as metasomatic veins. At higher temperatures, carbonatite melt was produced, which preferentially infiltrated the pre-existing metasomatic vein network. At the onset of post-collisional extension, deep fault structures formed, providing conduits for mantle melts to reach the upper crust. Low-volume partial melting of the enriched mantle at depths of at least 110 km led to the formation of first carbonatitic magma and subsequently lamprophyric magma. Carbonatite was emplaced in the upper crust at Naantali at 1795.7 ± 6.8 Ma; lamprophyres along the Archean-Proterozoic boundary were emplaced between 1790.1 ± 3.3 Ma and 1781 ± 20 Ma.