Lipase-catalyzed Approaches towards Secondary Alcohols: Intermediates for Enantiopure Drugs
Turcu, Mihaela (2010-09-17)
---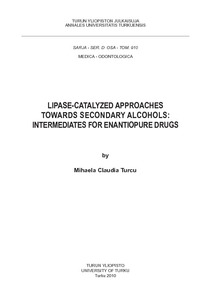 Turun yliopisto
17.09.2010
Julkaisun pysyvä osoite on:
http://urn.fi/URN:ISBN:978-951-29-4347-0
Kuvaus
Siirretty Doriasta
Tiivistelmä
The use of enantiopure intermediates for drug synthesis is a trend in pharmaceutical industry. Different physiological effects are associated with the enantiomers of chiral molecules. Thus, the safety profile of a drug based on an enantiopure active pharmaceutical ingredient is more reliable. Biocatalysis is an important tool to access enantiopure molecules. In biocatalysis, the advantage of selectivity (chemo-, regio- and stereoselectivity) is combined with the benefits of a green synthesis strategy. Chemoenzymatic syntheses of drug molecules, obtained by combining biocatalysis with modern chemical synthesis steps usually consists of fewer reaction steps, reduced waste production and improved overall synthetic efficiency both in yields and enantio- and/or diastereoselectivities compared with classical chemical synthesis.

The experimental work together with the literature review clearly indicates that lipase catalysis is highly applicable in the synthesis of enantiopure intermediates of drug molecules as the basis to infer the correct stereochemistry. By lipase catalysis, enantiopure secondary alcohols used as intermediates in the synthesis of Dorzolamide, an antiglaucoma drug, were obtained. Enantiopure _-hydroxy nitriles as potential intermediates for the synthesis of antidepressant drugs with 1-aryl-3- methylaminopropan-1-ol structure were also obtained with lipases. Kinetic resolution of racemates was the main biocatalytic approach applied. Candida Antarctica lipase B, Burkholderia cepacia lipase and Thermomyces lanuginosus lipase were applied for the acylation of alcohols and the alcoholysis of their esters in organic solvents, such as in diisopropyl ether and tert-butyl methyl ether. Candida Antarctica lipase B was used under solvent free conditions for the acylation of ethyl 3-hydroxybutanoate.