The molecular mechanisms and evolutionary significance of plumage colour variation in pied flycatchers (Ficedula hypoleuca)
Lehtonen, Paula (2010-09-11)
---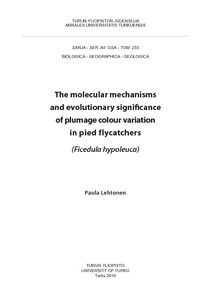 Turun yliopisto Annales Universitatis Turkuensis A II 255
11.09.2010
Julkaisun pysyvä osoite on:
http://urn.fi/URN:ISBN:978-951-29-4367-8
Kuvaus
Siirretty Doriasta
Tiivistelmä
A common feature of natural populations is that individuals differ in morphology, physiologyand behavior (i.e .phenotype). A thorough understanding of the molecular mechanisms and evolutionary forces behind this phenotypic variation is a prerequisite for understanding evolution.This thesis examines the molecular mechanism and the roles of the different evolutionary forces in plumage colour variation in pied flycatchers (Ficedulahypoleuca). Malepied flycatchers exhibit marked variation in both pigmentary and structural plumage colourand the trait has repeatedly been suggested to be of adaptive significance.

An examination of plumage colour variation on reproductive output trevealed that structural colouration, and more specifically the degree of ultraviolet (UV) reflectance had an effect on number of young sired. Paternity analyses of breeding males revealed that males that had been cuckolded by their social mate tended to be less UV reflectant than males that had not been cuckolded.Neither pigment-based norstructural colouration was found to affect the probability of siring young in other nests.

Phenotypic differentiation was found to be markedly greater than differentiation at neutralgenetic markers across the pied flycatcher breeding range. Furthermore patterns of differentiationin phenotypes and selectively neutral genes were not uniform. Outlier tests searching for genomic footprints of selection revealed elevated levels of genetic divergence in a gene associated with feather development (and thus potentially structural colouration) and ultraviolet vision. Th eobserved differentiation in allelic frequencies was particularly pronounced in the Spanish piedflycatcher populations.

Examining gene expression during feather development indicated that the TYRP1 gene (known to be involved in the production of black pigment) may be relevant in generating phenotypic variation in pied flycatcher plumage. Also, energy homeostasis related genesfeatured prominently among the genes found to be expressed in one extreme phenotype but not the other. This is of particular interest in light of what is known about the pleiotropy ofthe melanocortin system which underlies brown-black pigment production. The melanocortinsystem is also associated with energy homeostasis (among a number of other physiological functions) and thus the results could be pointing to the signalling function of brown-blackplumage.

Plumage colour variation in pied flycatchers, both structural and pigmentary, can thus beconcluded to be exhibiting signals of non-neutral evolution. Structural colouration was found to play a role in sexual selection and putative signals of selection were further detected in acandidate gene for this trait. Evidence for non-neutral evolution of pigmentary colouration was also detected. These findings, together with the fact that preliminary evidence for an energy balance associated signalling function for plumage was found, present good starting points for further investigations into the meaning and mechanisms of plumage colour variation in piedflycatchers.