Salivary gland cancer in Finland: Incidence, histological distribution, outcome and prognostic factors
Luukkaa, Heikki (2010-10-01)
---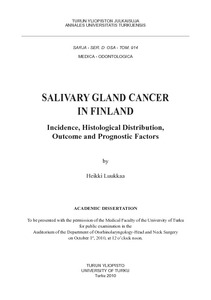 Turun yliopisto
01.10.2010
Julkaisun pysyvä osoite on:
http://urn.fi/URN:ISBN:978-951-29-4371-5
Kuvaus
Siirretty Doriasta
Tiivistelmä
Salivary gland cancer (SGC) is a rare cancer. The histological classification of SGC is complex and its biological behavior highly variable: it may vary from a low-grade tumor to a high-grade and often fatal malignancy. These circumstances make this cancer a diagnostic and therapeutic challenge. Older age and exposure to ionizing radiation are known risk factors. The mainstay of treatment is surgery combined with adjuvant radiation therapy, when appropriate. In addition to the histological type, the only well known prognostic factor is the TNM classification, which describes the tumor size and the amount of metastases.
This study was performed using a full population-based nationwide cohort of SGC patients and tumors diagnosed in Finland in 1991-1996. The annual incidence of SGC in the entire population was, on average, 47.7 per year. By histological re-evaluation of 237 specimens the most frequent histological types were the adenoid cystic carcinoma (n=65; 27%), the mucoepidermoid carcinoma (n=45; 19%) and the acinic cell carcinoma (n=41; 17%). The highest 10-year disease-specific survival rate occurred among patients with acinic cell carcinoma (90%), followed by mucoepidermoid carcinoma (81%) and adenoid cystic carcinoma (60%).

A high volume-corrected index (VCI) of Ki-67 correlated with worse survival of patients with SGC. Computer-assisted morphometric analyses of CD34-positive vessels indicated an unfavorable prognosis for patients with mucoepidermoid carcinoma and an association with poor survival among patients with acinic cell carcinoma. A high level of expression of matrix metalloproteinase-9 (MMP-9) showed a trend for a poorer prognosis in salivary duct carcinoma, and a high level of MMP-13 and a low level of MMP-1 had a trend for a poorer prognosis of patients with SGC. A low level of MMP-7 was associated with a poor prognosis of patients with acinic cell and mucoepidermoid carcinoma.