Probiotic interventions in infancy: Benefit and Safety Assessment of Extended Applications
Luoto, Raakel (2010-10-02)
---
Probiotic interventions in infancy: Benefit and Safety Assessment of Extended Applications
(02.10.2010)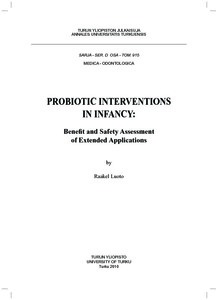 Turun yliopisto
Julkaisun pysyvä osoite on:
https://urn.fi/URN:ISBN:978-951-29-4373-9
Kuvaus
Siirretty Doriasta
Tiivistelmä
Immaturity of the gut barrier system in the newborn has been seen to underlie a number of chronic diseases originating in infancy and manifesting later in life. The gut microbiota and breast milk provide the most important maturing signals for the gut-related immune system and reinforcement of the gut mucosal barrier function. Recently, the composition of the gut microbiota has been proposed to be instrumental in control of host body weight and metabolism as well as the inflammatory state characterizing overweight and obesity. On this basis, inflammatory Western lifestyle diseases, including overweight development, may represent a potential target for probiotic interventions beyond the well documented clinical applications.

The purpose of the present undertaking was to study the efficacy and safety of perinatal probiotic intervention. The material comprised two ongoing, prospective, double-blind NAMI (Nutrition, Allergy, Mucosal immunology and Intestinal microbiota) probiotic interventions. In the mother-infant nutrition and probiotic study altogether 256 women were randomized at their first trimester of pregnancy into a dietary intervention and a control group. The intervention group received intensive dietary counselling provided by a nutritionist, and were further randomized at baseline, double-blind, to receive probiotics (Lactobacillus rhamnosus GG and Bifidobacterium lactis) or placebo. The intervention period extended from the first trimester of pregnancy to the end of exclusive breastfeeding. In the allergy prevention study altogether 159 women were randomized, double-blind, to receive probiotics (Lactobacillus rhamnosus GG) or placebo 4 weeks before expected delivery, the intervention extending for 6 months postnatally. Additionally, patient data on all premature infants with very low birth weight (VLBW) treated in the Department of Paediatrics, Turku University Hospital, during the years 1997 - 2008 were utilized.

The perinatal probiotic intervention reduced the risk of gestational diabetes mellitus (GDM) in the mothers and perinatal dietary counselling reduced that of fetal overgrowth in GDM-affected pregnancies. Early gut microbiota modulation with probiotics modified the growth pattern of the child by restraining excessive weight gain during the first years of life. The colostrum adiponectin concentration was demonstrated to be dependent on maternal diet and nutritional status during pregnancy. It was also higher in the colostrum received by normal-weight compared to overweight children at the age of 10 years. The early perinatal probiotic intervention and the postnatal probiotic intervention in VLBW infants were shown to be safe.

To conclude, the findings in this study provided clinical evidence supporting the involvement of the initial microbial and nutritional environment in metabolic programming of the child. The manipulation of early gut microbial communities with probiotics might offer an applicable strategy to impact individual energy homeostasis and thus to prevent excessive body-weight gain. The results add weight to the hypothesis that interventions aiming to prevent obesity and its metabolic consequences later in life should be initiated as early as during the perinatal period.