Efficiency of the ISM Code in Finnish Shipping Companies
Heijari, Juha; Tapanainen, Ulla (2010-09-17)
---
Efficiency of the ISM Code in Finnish Shipping Companies
Heijari, Juha
Tapanainen, Ulla
(17.09.2010)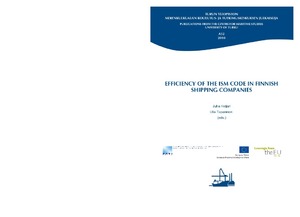 Turun yliopisto
Julkaisun pysyvä osoite on:
https://urn.fi/URN:ISBN:978-951-29-4353-1
Kuvaus
Siirretty Doriasta
Tiivistelmä
Due to increasing waterborne transportation in the Gulf of Finland, the risk of a hazardous accident increases and therefore manifold preventive actions are needed. As a main legislative authority in the maritime community, The International Maritime Organization (IMO) has set down plenary laws and recommendations which are e.g., utilised in the safe operations in ships and pollution prevention. One of these compulsory requirements, the ISM Code, requires proactive attitude both from the top management and operational workers in the shipping companies. In this study, a crosssectional approach was taken to analyse whether the ISM Code has actively enhanced maritime safety in the Gulf of Finland. The analysis included; 1) performance of the ISM Code in Finnish shipping companies, 2) statistical measurements of maritime safety, 3) influence of corporate top management to the safety culture and 4) comparing safety management practices in shipping companies and port operations of Finnish maritime and port authorities. The main results found were that maritime safety culture has developed in the right direction after the launch of the ISM Code in the 1990´s. However, this study does not exclusively prove that the improvements are the consequence of the ISM Code. Accident prone ships can be recognized due to their behaviour and there is a lesson to learn from the safety culture of some high standard safety disciplines such as, air traffic. In addition, the reporting of accidents and nearmisses should be more widely used in shipping industry. In conclusion, there is still much to be improved in the maritime safety culture of the Finnish Shipping industry, e.g., a "no blame culture" needs to be adopted.