Therapeutic Properties of Superoxide Dismutase 3 and Mesenchymal Stromal Cells in Peripheral Ischemia
Laurila, Juha (2010-10-29)
---
Therapeutic Properties of Superoxide Dismutase 3 and Mesenchymal Stromal Cells in Peripheral Ischemia
(29.10.2010)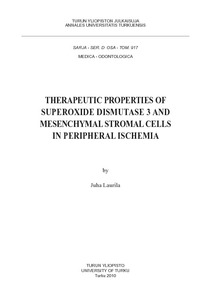 Annales Universitatis Turkuensis D 917 Turun yliopisto
Julkaisun pysyvä osoite on:
https://urn.fi/URN:ISBN:978-951-29-4377-7
Kuvaus
Siirretty Doriasta
Tiivistelmä
The aim of this study was to characterize the cellular mechanisms leading to the beneficial effect of anti-oxidative gene therapy and pro-angiogenic stem cell therapy in acute peripheral ischemia. Post-ischemic events aim to re-establish tissue blood perfusion, to clear cellular debris, and to regenerate lost tissue by differentiation of satellite cells into myoblasts. Although leukocytes have an essential role in clearing cellular debris and promoting angiogenesis, they also contribute to tissue injury through excessive ROS production.

First, we investigated the therapeutic properties of extracellular superoxide dismutase (SOD3) gene transfer. SOD3 was shown to reduce oxidative stress, to normalize glucose metabolism, and to enhance cell proliferation in the ischemic muscle. Analysis of the mitogenic Ras-Erk1/2 pathway showed SOD3 mediated induction offering a plausible explanation for enhanced cell proliferation. In addition, SOD3 reduced NF-κB activity by enhancing IκBα expression thus leading to reduced expression of inflammatory cytokines and adhesion molecules with consequent reduction in macrophage infiltration.

Secondly, we sought to determine the fate and the effect of locally transplanted mesenchymal stem/stromal cells (MSCs) in acute ischemia. We showed that a vast majority of the transplanted cells are cleared from the injury site within 24 hours after local transplantation. Despite rapid clearance, transplantation was able to temporarily promote angiogenesis and cell proliferation in the muscle. Lack of graft-derived growth factor expression suggests other than secretory function to mediate this observed effect.

In conclusion, both SOD3 and MSCs could be utilized to alleviate peripheral ischemia induced tissue injury. We have described a previously unidentified growth regulatory role for SOD3, and suggest a novel mechanism whereby transplanted MSCs enhance the reparative potential of the recipient tissue through physical contacts.