Epidemiology of Cytochrome P450-mediated Drug-Drug Interactions
Tirkkonen, Tuire (2010-10-29)
---
Epidemiology of Cytochrome P450-mediated Drug-Drug Interactions
(29.10.2010)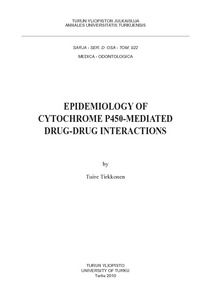 Annales Universitatis Turkuensis D 922 Turun yliopisto
Julkaisun pysyvä osoite on:
https://urn.fi/URN:ISBN:978-951-29-4412-5
Kuvaus
Siirretty Doriasta
Tiivistelmä
Drug-drug interactions (DDIs) comprise an important cause of adverse drug reactions leading to excess hospitalizations. Drug metabolism is catalyzed by 75% by cytochrome P450 (CYP) enzymes and thus they are often involved in pharmacokinetic DDIs. In general, DDIs are studied in randomized controlled clinical trials in selected study populations. The overall aim of the present studies was to perform observational pharmacoepidemiological surveys on CYP-mediated DDIs in diseases important at the population level.

The prevalence of co-administrations of four prodrugs (losartan, codeine, tramadol, and clopidogrel), three sulphonylureas (glibenclamide, glimepiride, and glipizide), or two statins (lovastatin and simvastatin) with well established agents altering CYP activity, as well as of statins with fibrates, was studied in Finland utilizing data from a university hospital medication database (inpatients) and the National Prescription Register of the Social Insurance Institution of Finland, Kela (outpatients). Clinical consequences of potential DDIs were estimated by reviewing laboratory data, and information from hospital care and cause-of-death registers.

Concomitant use of study substrates with interacting medication was detected in up to one fifth of patients in both hospital and community settings. Potential CYP3A4 interactions in statin users did not manifest in clear adverse laboratory values but pharmacodynamic DDIs between statins and fibrates predisposed patients to muscular toxicity. Sulphonylurea DDIs with CYP2C9 inhibitors increased the risk of hypoglycaemia. CYP3A4 inhibitor use with clopidogrel was not associated with significant changes in mortality but non-fatal thrombosis and haemorrhage complications were seen less often in this group. Concomitant administration of atorvastatin with clopidogrel moderately attenuated the antithrombotic effect by clopidogrel. The overall mortality was increased in CYP3A4 inducer and clopidogrel co-users. Atorvastatin used concomitantly with prodrug clopidogrel seems to be beneficial in terms of total and LDL cholesterol concentrations, and overall mortality compared with clopidogrel use without interacting medication.

In conclusion, CYP-mediated DDIs are a common and often unrecognized consequence of irrational drug prescribing.