Delivery, Outcome, and Costs of Orthodontic Care in Finnish Health Centres
Pietilä, Ilpo (2010-10-29)
---
Delivery, Outcome, and Costs of Orthodontic Care in Finnish Health Centres
(29.10.2010)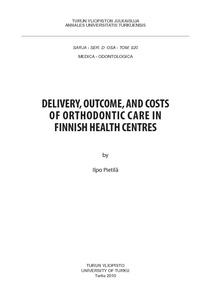 Annales Universitatis Turkuensis D 920 Turun yliopisto
Julkaisun pysyvä osoite on:
https://urn.fi/URN:ISBN:978-951-29-4395-1
Kuvaus
Siirretty Doriasta
Tiivistelmä
The goal of the study was to analyse orthodontic care in Finnish health centres with special reference to the delivery, outcome and costs of treatment. Public orthodontic care was studied by two questionnaires sent to the chief dental officers of all health centres (n = 276) and to all specialist orthodontists in Finland (n = 146). The large regional variation was mentioned by the orthodontists as the most important factor requiring improvement.

Orthodontic practices and outcome were studied in eight Finnish municipal health centres representing early and late timing of treatment. A random sample of 16- and 18-year-olds (n = 1109) living in these municipalities was examined for acceptability of occlusion with the Occlusal Morphology and Function Index (OMFI). In acceptability of occlusion, only minor differences were found between the two timing groups. The percentage of subjects with acceptable morphology was higher among untreated than among treated adolescents. The costs of orthodontic care were estimated among the adolescents with a treatment history. The mean appliance costs were higher in the late, and the mean visit costs higher in the early timing group. The cost-effectiveness of orthodontic services differed among the health centres, but was almost equal in the two timing groups.

National guidelines and delegation of orthodontic tasks were suggested as the tools for reducing the variation among the health centres. In the eight health centres, considerable variation was found in acceptability of occlusion and in cost-effectiveness of services. The cost-effectiveness was not directly connected with the timing of treatment.