The Influence of Certain Processing Factors on the Durability of Yttrium Stabilized Zirconia Used As Dental Biomaterial
Hjerppe, Jenni (2010-10-22)
---
The Influence of Certain Processing Factors on the Durability of Yttrium Stabilized Zirconia Used As Dental Biomaterial
(22.10.2010)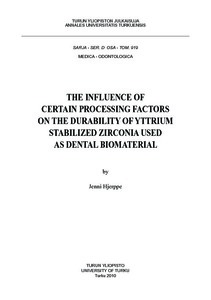 Annales Universitatis Turkuensis D 919 Turun yliopisto
Julkaisun pysyvä osoite on:
https://urn.fi/URN:ISBN:978-951-29-4385-2
Kuvaus
Siirretty Doriasta
Tiivistelmä
In dentistry, yttrium partially stabilized zirconia (ZrO2) has become one of the most attractive ceramic materials for prosthetic applications. The aim of this series of studies was to evaluate whether certain treatments used in the manufacturing process, such as sintering time, color shading or heat treatment of zirconia affect the material properties. Another aim was to evaluate the load-bearing capacity and marginal fit of manually copy-milled custom-made versus prefabricated commercially available zirconia implant abutments.

Mechanical properties such as flexural strength and surface microhardness were determined for green-stage milled and sintered yttrium partially stabilized zirconia after different sintering time, coloring process and heat treatments. Scanning electron microscope (SEM) was used for analyzing the possible changes in surface structure of zirconia material after reduced sintering time, coloring and heat treatments. Possible phase change from the tetragonal to the monoclinic phase was evaluated by X-ray diffraction analysis (XRD). The load-bearing capacity of different implant abutments was measured and the fit between abutment and implant replica was examined with SEM.

The results of these studies showed that the shorter sintering time or the thermocycling did not affect the strength or surface microhardness of zirconia. Coloring of zirconia decreased strength compared to un-colored control zirconia, and some of the colored zirconia specimens also showed a decrease in surface microhardness. Coloring also affected the dimensions of zirconia. Significantly decreased shrinkage was found for colored zirconia specimens during sintering. Heat treatment of zirconia did not seem to affect materials' mechanical properties but when a thin coating of wash and glaze porcelain was fired on the tensile side of the disc the flexural strength decreased significantly. Furthermore, it was found that thermocycling increased the monoclinic phase on the surface of the zirconia. Color shading or heat treatment did not seem to affect phase transformation but small monoclinic peaks were detected on the surface of the heat treated specimens with a thin coating of wash and glaze porcelain on the opposite side. Custom-made zirconia abutments showed comparable load-bearing capacity to the prefabricated commercially available zirconia abutments. However, the fit of the custom-made abutments was less satisfactory than that of the commercially available abutments.

These studies suggest that zirconia is a durable material and other treatments than color shading used in the manufacturing process of zirconia bulk material does not affect the material's strength. The decrease in strength and dimensional changes after color shading needs to be taken into account when fabricating zirconia substructures for fixed dental prostheses. Manually copy-milled custom-made abutments have acceptable load-bearing capacity but the marginal accuracy has to be evaluated carefully.