Magnetic Resonance Experiments with Atomic Hydrogen
Ahokas, Janne (2010-10-30)
---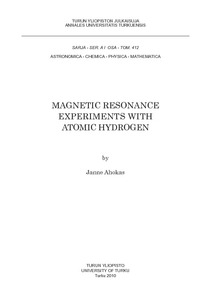 Turun yliopisto Annales Universitatis Turkuensis A I 412
30.10.2010
Julkaisun pysyvä osoite on:
http://urn.fi/URN:ISBN:978-951-29-4409
Kuvaus
Siirretty Doriasta
Tiivistelmä
In this thesis three experiments with atomic hydrogen (H) at low temperatures T<1 K are presented. Experiments were carried out with two- (2D) and three-dimensional (3D) H gas, and with H atoms trapped in solid H2 matrix. The main focus of this work is on interatomic interactions, which have certain specific features in these three systems considered. A common feature is the very high density of atomic hydrogen, the systems are close to quantum degeneracy. Short range interactions in collisions between atoms are important in gaseous H. The system of H in H2 differ dramatically because atoms remain fixed in the H2 lattice and properties are governed by long-range interactions with the solid matrix and with H atoms.

The main tools in our studies were the methods of magnetic resonance, with electron spin resonance (ESR) at 128 GHz being used as the principal detection method. For the first time in experiments with H in high magnetic fields and at low temperatures we combined ESR and NMR to perform electron-nuclear double resonance (ENDOR) as well as coherent two-photon spectroscopy. This allowed to distinguish between different types of interactions in the magnetic resonance spectra. Experiments with 2D H gas utilized the thermal compression method in homogeneous magnetic field, developed in our laboratory. In this work methods were developed for direct studies of 3D H at high density, and for creating high density samples of H in H2.

We measured magnetic resonance line shifts due to collisions in the 2D and 3D H gases. First we observed that the cold collision shift in 2D H gas composed of atoms in a single hyperfine state is much smaller than predicted by the mean-field theory. This motivated us to carry out similar experiments with 3D H. In 3D H the cold collision shift was found to be an order of magnitude smaller for atoms in a single hyperfine state than that for a mixture of atoms in two different hyperfine states. The collisional shifts were found to be in fair agreement with the theory, which takes into account symmetrization of the wave functions of the colliding atoms. The origin of the small shift in the 2D H composed of single hyperfine state atoms is not yet understood. The measurement of the shift in 3D H provides experimental determination for the difference of the scattering lengths of ground state atoms.

The experiment with H atoms captured in H2 matrix at temperatures below 1 K originated from our work with H gas. We found out that samples of H in H2 were formed during recombination of gas phase H, enabling sample preparation at temperatures below 0.5 K. Alternatively, we created the samples by electron impact dissociation of H2 molecules in situ in the solid. By the latter method we reached highest densities of H atoms reported so far, 3.5(5)x1019 cm-3. The H atoms were found to be stable for weeks at temperatures below 0.5 K. The observation of dipolar interaction effects provides a verification for the density measurement. Our results point to two different sites for H atoms in H2 lattice. The steady-state nuclear polarizations of the atoms were found to be non-thermal. The possibility for further increase of the impurity H density is considered. At higher densities and lower temperatures it might be possible to observe phenomena related to quantum degeneracy in solid.