CT and PET/CT Hybrid Imaging of Coronary Artery Disease
Kajander, Sami (2010-10-05)
---
CT and PET/CT Hybrid Imaging of Coronary Artery Disease
(05.10.2010)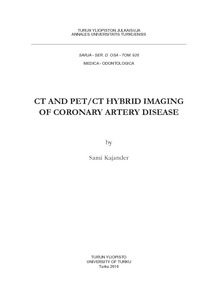 Annales Universitatis Turkuensis D 926 Turun yliopisto
Julkaisun pysyvä osoite on:
https://urn.fi/URN:ISBN:978-951-29-4426-2
Kuvaus
Siirretty Doriasta
Tiivistelmä
Coronary artery disease (CAD) is a chronic process that evolves over decades and may culminate in myocardial infarction (MI). While invasive coronary angiography (ICA) is still considered the gold standard of imaging CAD, non-invasive assessment of both the vascular anatomy and myocardial perfusion has become an intriguing alternative. In particular, computed tomography (CT) and positron emission tomography (PET) form an attractive combination for such studies. Increased radiation dose is, however, a concern. Our aim in the current thesis was to test novel CT and PET techniques alone and in hybrid setting in the detection and assessment of CAD in clinical patients. Along with diagnostic accuracy, methods for the reduction of the radiation dose was an important target. The study investigating the coronary arteries of patients with atrial fibrillation (AF) showed that CAD may be an important etiology of AF because a high prevalence of CAD was demonstrated within AF patients. In patients with suspected CAD, we demonstrated that a sequential, prospectively ECG-triggered CT technique was applicable to nearly 9/10 clinical patients and the radiation dose was over 60% lower than with spiral CT. To detect the functional significance of obstructive CAD, a novel software for perfusion quantification, CarimasTM, showed high reproducibility with 15O-labelled water in PET, supporting feasibility and good clinical accuracy. In a larger cohort of 107 patients with moderate 30-70% pre-test probability of CAD, hybrid PET/CT was shown to be a powerful diagnostic method in the assessment of CAD with diagnostic accuracy comparable to that of invasive angiography and fractional flow reserve (FFR) measurements. A hybrid study may be performed with a reasonable radiation dose in a vast majority of the cases, improving the performance of stand-alone PET and CT angiography, particularly when the absolute quantification of the perfusion is employed.

These results can be applied into clinical practice and will be useful for daily clinical diagnosis of CAD.