Non-Markovianity and Quantum Correlations in Qubit-Systems
Mazzola, Laura (2010-11-13)
---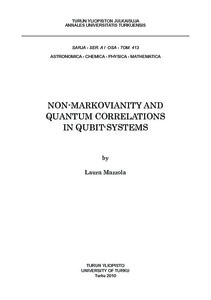 Turun yliopisto Annales Universitatis Turkuensis A I 413
13.11.2010
Julkaisun pysyvä osoite on:
http://urn.fi/URN:ISBN:978-951-29-4419-4
Kuvaus
Siirretty Doriasta
Tiivistelmä
In this Thesis I discuss the exact dynamics of simple non-Markovian systems. I focus on fundamental questions at the core of non-Markovian theory and investigate the dynamics of quantum correlations under non-Markovian decoherence.

In the first context I present the connection between two different non-Markovian approaches, and compare two distinct definitions of non-Markovianity. The general aim is to characterize in exemplary cases which part of the environment is responsible for the feedback of information typical of non- Markovian dynamics. I also show how such a feedback of information is not always described by certain types of master equations commonly used to tackle non-Markovian dynamics.

In the second context I characterize the dynamics of two qubits in a common non-Markovian reservoir, and introduce a new dynamical effect in a wellknown model, i.e., two qubits under depolarizing channels. In the first model the exact solution of the dynamics is found, and the entanglement behavior is extensively studied. The non-Markovianity of the reservoir and reservoirmediated-interaction between the qubits cause non-trivial dynamical features.

The dynamical interplay between different types of correlations is also investigated. In the second model the study of quantum and classical correlations demonstrates the existence of a new effect: the sudden transition between classical and quantum decoherence. This phenomenon involves the complete preservation of the initial quantum correlations for long intervals of time of the order of the relaxation time of the system.