Leaf-Targeted Ferredoxin-NADP+-Oxidoreductase (FNR): Electron Transfer Properties and Thylakoid Association in Arabidopsis thaliana
Lintala, Minna (2010-11-19)
---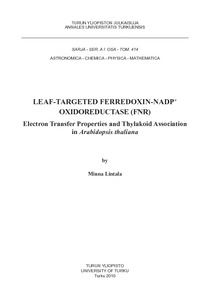 Turun yliopisto Annales Universitatis Turkuensis A I 414
19.11.2010
Julkaisun pysyvä osoite on:
http://urn.fi/URN:ISBN:978-951-29-4428-6
Kuvaus
Siirretty Doriasta
Tiivistelmä
Photosynthetic reactions are divided in two parts: light-driven electron transfer reactions and carbon fixation reactions. Electron transfer reactions capture solar energy and split water molecules to form reducing energy (NADPH) and energy-carrying molecules (ATP). These end-products are used for fixation of inorganic carbon dioxide into organic sugar molecules. Ferredoxin-NADP+ oxidoreductase (FNR) is an enzyme that acts at the branch point between the electron transfer reactions and reductive metabolism by catalyzing reduction of NADP+ at the last step of the electron transfer chain.

In this thesis, two isoforms of FNR from A rabidopsis thaliana, FNR1 and FNR2, were characterized using the reverse genetics approach. The fnr1 and fnr2 mutant plants resembled each other in many respects. Downregulation of photosynthesis protected the single fnr mutant plants from excess formation of reactive oxygen species (ROS), even without significant upregulation of antioxidative mechanisms. Adverse growth conditions, however, resulted in phenotypic differences between fnr1 and fnr2. While fnr2 plants showed downregulation of photosynthetic complexes and upregulation of antioxidative mechanisms under low-temperature growth conditions, fnr1 plants had the wild-type phenotype, indicating that FNR2 may have a specific role in redistribution of electrons under unfavorable conditions. The heterozygotic double mutant (fnr1xfnr2) was severely devoid of chloroplastic FNR, which clearly restricted photosynthesis. The fnr1xfnr2 plants used several photoprotective mechanisms to avoid oxidative stress.

In wild-type chloroplasts, both FNR isoforms were found from the stroma, the thylakoid membrane, and the inner envelope membrane. In the absence of the FNR1 isoform, FNR2 was found only in the stroma, suggesting that FNR1 and FNR2 form a dimer, by which FNR1 anchors FNR2 to the thylakoid membrane. Structural modeling predicted formation of an FNR dimer in complex with ferredoxin. In this thesis work, Tic62 was found to be the main protein that binds FNR to the thylakoid membrane, where Tic62 and FNR formed high molecular weight complexes. The formation of such complexes was shown to be regulated by the redox state of the chloroplast. The accumulation of Tic62-FNR complexes in darkness and dissociation of complexes from the membranes in light provide evidence that the complexes may have roles unrelated to photosynthesis. This and the high viability of fnr1 mutant plants lacking thylakoid-bound FNR indicate that the stromal pool of FNR is photosynthetically active.