Viral and cellular modulation of virus-induced apoptosis in experimental infection models
Peri, Piritta (2010-12-10)
---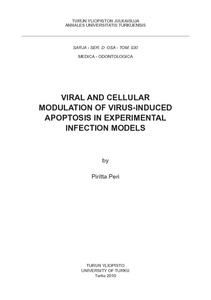 Annales Universitatis Turkuensis D 930 Turun yliopisto
10.12.2010
Julkaisun pysyvä osoite on:
http://urn.fi/URN:ISBN:978-951-29-4448-4
Kuvaus
Siirretty Doriasta
Tiivistelmä
The aim of this study was to investigate herpes simplex virus type 1 (HSV-1)- and measles virus (MV)-induced cell death. HSV-1 with deletion in genes encoding infected cell protein (ICP)4 and protein kinase Us3 (d120) induced apoptosis and cathepsin activation in epithelial (HEp-2) and monocytic (U937) cells. Inhibition of cathepsin activity decreased the amount of d120-induced apoptosis indicating that d120-induced apoptosis could be cathepsin-mediated. Also, HSV-1 infection increased caspase activation suggesting that d120-induced apoptosis is probably caspase-mediated. Cystatin treatment decreased the activity of cathepsins and the replication of HSV-1 indicating that cathepsins contribute to HSV-1 infection. Interestingly, d120 induced also necroptosis in monocytic cells. This is the first report on necroptosis in HSV-1- infected cells.

MV induced apoptosis in uninfected bystander T lymphocytes, probably via interaction of MV-infected monocytes with uninfected lymphocytes. The expression of death receptor Fas was clearly increased on the surface of lymphocytes. The number of apoptotic cells and the activation of cathepsins and caspases were increased in MVinfected U937 cells suggesting that MV-induced apoptosis could be cathepsin- and caspase-mediated. Cystatin treatment inhibited cathepsin activities but not MV-induced apoptosis.

Besides HSV-1-induced apoptosis, innate immune responses were studied in HSV-1-infection. HSV-1 viruses with either ICP4 and Us3, or Us3 deletion only, increased the expression of Toll-like receptor (TLR)3 and stimulated its downstream pathways leading to increased expression of type I interferon gene and to functional interferons. These findings suggest that besides controlling apoptosis, HSV-1 ICP4 and Us3 genes are involved in the control of TLR3 response in infected cell.