Targeting Adenoviral Gene Therapy Vectors to Head and Neck Squamous Cell Carcinoma and Heart
Toivonen, Raine (2010-12-03)
---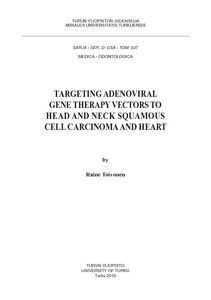 Annales Universitatis Turkuensis D 937 Turun yliopisto
03.12.2010
Julkaisun pysyvä osoite on:
https://urn.fi/URN:ISBN:978-951-29-4480-4
Kuvaus
Siirretty Doriasta
Tiivistelmä
Gene therapy aims to treat diseases by introducing genetic material to the diseased tissue. For cancer treatment it is important to destroy cancerous cells; this can be achieved by introducing a gene, which induces cell death or by allowing viral vectors to replicate, which also results in destruction of cancerous cells. For cardiac diseases the approach is more like the former, except the gene produces beneficial effects, like angiogenesis.

Adenoviruses have many beneficial qualities, which make the virus an interesting gene therapy vector; it can be produced relatively easily, its manipulation is quite easy and it has naturally broad tropism. By removing or replacing certain genes in the adenoviral genome, it can be made non-replicative.

In this study, adenoviral receptor expression patterns were characterized in both head and neck squamous cell carcinoma and the human heart. Adenovirus serotype 5 receptor expression in head and neck cancer cell lines was found to be highly variable between cell lines and overall at lower levels, while Ad35 receptor expression was more uniform and at higher levels in all analyzed cell lines. It was also shown that a hybrid virus Ad5/35 is able to infect cells refractory to Ad5, which correlates with receptor expression in these cells. Furthermore, this difference in infection properties extends to cell killing efficiency in case of conditionally replicative viruses. Expression levels of adenoviral receptors CAR, CD46, CD86 and αv-integrins were found to be high both in normal and dilated cardiomyopathy heart tissue. The receptor levels also correlate with transduction efficiency after intracardiac injection. Ad5 showed superior transduction ability compared with Ad5/35, but evoked also a more profound immune reaction when administered this way.

Adenoviral gene therapy vectors are the most used delivery vehicles in clinical trials to date. These vectors have proven to be well tolerated and positive results have been obtained when combined with traditional treatments, although poor transduction efficiency has often been reported due to low-level expression of viral receptors on target cells. In spite of this, the results are encouraging and merit for further research.