Interactions between Polyunsaturated Fatty Acids and Probiotics
Kankaanpää, Pasi (2010-12-08)
---
Interactions between Polyunsaturated Fatty Acids and Probiotics
(08.12.2010)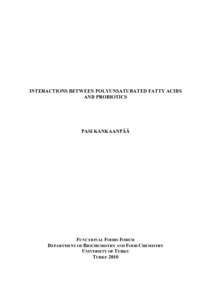 Turun yliopisto
Kuvaus
Siirretty Doriasta
Tiivistelmä
The prevalence of inflammatory based diseases has increased in industrialized countries over the last decades. For allergic diseases, two primary hypotheses have been proposed to explain this phenomenon, namely the hygiene and dietary evolution based hypothesis. Particularly, the reduced early exposure to microbes and an increase in the amount of polyunsaturated fatty acids (especially n-6 PUFA) in the diet have been discussed. Often, these two factors have been studied independently, even though both factors have been shown to possess potential health benefits and their mode of action to share similar mechanisms. The hypothesis of the present study was that demonstrate that PUFA and probiotics are not separate entities as such but do interact with each other.

In the present study, we investigated whether maternal diet and atopic status influence the PUFA composition of breast milk and serum fatty acids of infants, and whether the fatty acid absorption and utilization of infant formula fatty acids is affected by supplementation of infant formula with probiotic bacteria (Lactobacillus GG and Bifidobacterium lactis Bb-12). Moreover, we investigated the mechanisms by which different PUFA influence the physicochemical and functional properties of probiotics as well as functionality of epithelial cells in vitro.

We demonstrated a carry-over effect of dietary fatty acids from maternal diet via breast milk into infants' serum lipid fatty acids. Our data confirmed the previously shown allergy –related PUFA level imbalances, though it did not fully support the impaired desaturation and elongation capacity hypothesis. We also showed that PUFA incorporation into phospholipids of infants was influenced by probiotics in infant formula in a strain dependent manner. Especially,Bifidobacterium lactis Bb-12 in infant formula promoted the utilization of n-3 PUFA.

Mechanistically, we demonstrated that probiotics (Lactobacillus GG, Lactobacillus casei Shirota and Lactobacillus bulgaricus) did incorporate and interconvert exogenous free PUFA in the growth medium into bacterial fatty acids strain and PUFA dependently. In general, high concentrations of free PUFA inhibited the growth and mucus adhesion of probiotics, whereas low concentrations of specific long chain PUFA were found to promote the growth and mucus adhesion of Lactobacillus casei Shirota. These effects were paralleled with only minor alterations in hydrophobicity and electron donor – electron acceptor properties of lactobacilli. Furthermore, free PUFA were also demonstrated to alter the adhesion capacity of the intestinal epithelial cells; n-6 PUFA tended to inhibit the Caco-2 adhesion of probiotics, whereas n-3 PUFA had either no or minor effects or even promote the bacterial adhesion (especially Lactobacillus casei Shirota) to PUFA treated Caco-2 cells.

The results of this study demonstrate the close and bilateral interactions between dietary PUFA and probiotics. Probiotics were shown to influence the absorption and utilization of dietary PUFA, whereas PUFA were shown to alter the functional properties of both probiotics and mucosal epithelia. These findings suggest that a more thorough understanding of interactions between PUFA and intestinal microbiota is a prerequisite, when the beneficial effects of new functional foods containing probiotics are designed and planned for human intervention studies.