Berry polyphenol absorption and the effect of northern berries on metabolism, ectopic fat accumulation, and associated diseases
Lehtonen, Henna-Maria (2010-12-03)
---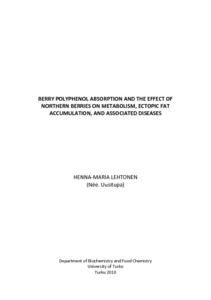 Turun yliopisto
03.12.2010
Kuvaus
Siirretty Doriasta
Tiivistelmä
The prevalence of obesity and type 2 diabetes has increased at an alarming rate in developed countries. It seems in the light of current knowledge that metabolic syndrome may not develop at all without NAFLD, and NAFLD is estimated to be as common as metabolic syndrome in western population (23 % occurrence). Fat in the liver is called ectopic fat, which is triacylglycerols within the cells of non-adipose tissue. Serum alanine aminotransferase (ALT) values correlate positively with liver fat proportions, and increased activity of ALT predicts type 2 diabetes independently from obesity. Berries, high in natural bioactive compounds, have indicated the potential to reduce the risk of obesity-related diseases. Ectopic fat induces common endocrine excretion of adipose tissue resulting in the overproduction of inflammatory markers, which further induce insulin resistance by multiple mechanisms. Insulin resistance inducing hyperinsulinemia and lipolysis in adipocytes increases the concentration of free fatty acids and consequently causes further fat accumulation in hepatocytes. Polyphenolic fractions of berries have been shown to reverse inflammatory reaction cascades in in vitro and animal studies, and moreover to decrease ectopic fat accumulation.

The aim of this thesis was to explore the role of northern berries in obesity-related diseases. The absorption and metabolism of selected berry polyphenols, flavonol glycosides and anthocyanins, was investigated in humans, and metabolites of the studied compounds were identified in plasma and urine samples (I, II). Further, the effects of berries on the risk factors of metabolic syndrome were studied in clinical intervention trials (III, IV), and the different fractions of sea buckthorn berry were tested for their ability to reduce postprandial glycemia and insulinemia after high-glucose meal in a postprandial study with humans (V).

The marked impact of mixed berries on plasma ALT values (III), as well as indications of the positive effects of sea buckthorn, its fractions and bilberry on omental adiposity and adhesion molecules (IV) were observed. In study V, sea buckthorn and its polyphenol fractions had a promising effect on potprandial metabolism after high-glucose meal. In the literature review, the possible mechanisms behind the observed effects have been discussed with a special emphasis on ectopic fat accumulation. The literature review indicated that especially tannins and flavonoids have shown potential in suppressing diverse reaction cascades related to systemic inflammation, ectopic fat accumulation and insulin resistance development.