Factors Regulating Chondrogenic Differentiation
Taipaleenmäki, Hanna (2010-12-10)
---
Factors Regulating Chondrogenic Differentiation
(10.12.2010)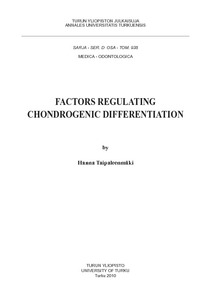 Annales Universitatis Turkuensis D 938 Turun yliopisto
Julkaisun pysyvä osoite on:
https://urn.fi/URN:ISBN:978-951-29-4482-8
Kuvaus
Siirretty Doriasta
Tiivistelmä
Chondrogenesis is a co-ordinated differentiation process in which mesenchymal cells condensate, differentiate into chondrocytes and begin to secrete molecules that form the extracellular matrix. It is regulated in a spatio-temporal manner by cellular interactions and growth and differentiation factors that modulate cellular signalling pathways and transcription of specific genes. Moreover, post-transcriptional regulation by microRNAs (miRNAs) has appeared to play a central role in diverse biological processes, but their role in skeletal development is not fully understood.

Mesenchymal stromal cells (MSCs) are multipotent cells present in a variety of adult tissues, including bone marrow and adipose tissue. They can be isolated, expanded and, under defined conditions, induced to differentiate into multiple cell lineages including chondrocytes, osteoblasts and adipocytes in vitro and in vivo. Owing to their intrinsic capability to self-renew and differentiate into functional cell types, MSCs provide a promising source for cell-based therapeutic strategies for various degenerative diseases, such as osteoarthritis (OA). Due to the potential therapeutic applications, it is of importance to better understand the MSC biology and the regulatory mechanisms of their differentiation.

In this study, an in vitro assay for chondrogenic differentiation of mouse MSCs (mMSCs) was developed for the screening of various factors for their chondrogenic potential. Conditions were optimized for pellet cultures by inducing mMSC with different bone morphogenetic proteins (BMPs) that were selected based on their known chondrogenic relevance. Characterization of the surface epitope profile, differentiation capacity and molecular signature of mMSCs illustrated the importance of cell population composition and the interaction between different populations in the cell fate determination and differentiation of MSCs. Regulation of Wnt signalling activity by Wnt antagonist sFRP-1 was elucidated as a potential modulator of lineage commitment. Delta-like 1 (dlk1), a factor regulating adipogenesis and osteogenesis, was shown to exhibit stage-specific expression during embryonic chondrogenesis and identified as a novel regulator of chondrogenesis, possibly through mediating the effect of TGF-beta1. Moreover, miRNA profiling demonstrated that MSCs differentiating into a certain lineage exhibit a specific miRNA expression profile. The complex regulatory network between miRNAs and transcription factors is suggested to play a crucial role in fine-tuning the differentiation of MSCs.

These results demonstrate that commitment of mesenchymal stromal cells and further differentiation into specific lineages is regulated by interactions between MSCs, various growth and transcription factors, and miRNA-mediated translational repression of lineage-specific genes.