Regulation of B Cell Gene Expression and Function by Ikaros, Helios and Bcl6
Alinikula, Jukka (2010-12-17)
---
Regulation of B Cell Gene Expression and Function by Ikaros, Helios and Bcl6
(17.12.2010)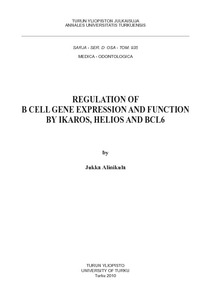 Annales Universitatis Turkuensis D 935 Turun yliopisto
Julkaisun pysyvä osoite on:
https://urn.fi/URN:ISBN:978-951-29-4476-7
Kuvaus
Siirretty Doriasta
Tiivistelmä
B lymphocytes constitute a key branch of adaptive immunity by providing specificity to recognize a vast variety of antigens by B cell antigen receptors (BCR) and secreted antibodies. Antigen recognition activates the cells and can produce antibody secreting plasma cells via germinal center reaction that leads to the maturation of antigen recognition affinity and switching of antibody effector class. The specificity of antigen recognition is achieved through a multistep developmental pathway that is organized by interplay of transcription factors and signals through BCR.

Lymphoid malignancies arise from different stages of development in abnormal function of transcriptional regulation. To understand the B cell development and the function of B cells, a thorough understanding of the regulation of gene expression is important. The transcription factors of the Ikaros family and Bcl6 are frequently associated with lymphoma generation. The aim of this study was to reveal the targets of Ikaros, Helios and Bcl6 mediated gene regulation and to find out the function of Ikaros and Helios in B cells.

This study uses gene targeted DT40 B cell lines and establishes a role for Ikaros family factors Ikaros and Helios in the regulation of BCR signaling that is important at developmental checkpoints, for cell survival and in activation. Ikaros and Helios had opposing roles in the regulation of BCR signals. Ikaros was found to directly repress the SHIP gene that encodes a signaling lipid-metabolizing enzyme, whereas Helios had activating effect on SHIP expression. The findings demonstrate a balancing function for these two Ikaros family transcription factors in the regulation of BCR signaling as well as in the regulation of gene expression. Bcl6 was found to repress plasma cell gene expression program while maintaining gene expression profile of B cells. Analysis of direct Bcl6 target genes suggested novel mechanisms for Bcl6-mediated suppression of plasma cell differentiation and promoting germinal center phenotype.