Early nutritional determinants in cardio-metabolic programming – A prospective randomized controlled dietary intervention study
Aaltonen, Jonna (2011-01-07)
---
Early nutritional determinants in cardio-metabolic programming – A prospective randomized controlled dietary intervention study
(07.01.2011)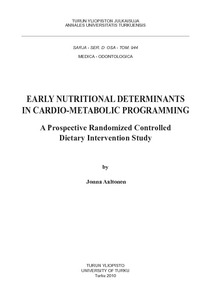 Annales Universitatis Turkuensis D 944 Turun yliopisto
Julkaisun pysyvä osoite on:
https://urn.fi/URN:ISBN:978-951-29-4508-5
Kuvaus
Siirretty Doriasta
Tiivistelmä
Western societies have been faced with the fact that overweight, impaired glucose regulation and elevated blood pressure are already prevalent in pediatric populations. This will inevitably mean an increase in later manifestations of cardio-metabolic diseases. The dilemma has been suggested to stem from fetal life and it is surmised that the early nutritional environment plays an important role in the process called programming. The aim of the present study was to characterize early nutritional determinants associating with cardio-metabolic risk factors in fetuses, infants and children. Further, the study was designated to establish whether dietary counseling initiated in early pregnancy can modify this cascade.

Healthy mother-child pairs (n=256) participating in a dietary intervention study were followed from early pregnancy to childhood. The intervention included detailed dietary counseling by a nutritionist targeting saturated fat intake in excess of recommendations and fiber consumption below recommendations. Cardio-metabolic programming was studied by characterizing the offspring's cardio-metabolic risk factors such as over-activation of the autonomic nervous system, elevated blood pressure and adverse metabolic status (e.g. serum high split proinsulin concentration). Fetal cardiac sympathovagal activation was measured during labor. Postnatally, children's blood pressure was measured at six-month and four-year follow-up visits. Further, infants' metabolic status was assessed by means of growth and serum biomarkers (32-33 split proinsulin, leptin and adiponectin) at the age of six months.

This study proved that fetal cardiac sympathovagal activity was positively associated with maternal pre-pregnancy body mass index indicating adverse cardio-metabolic programming in the offspring. Further, a reduced risk of high split proinsulin in infancy and lower blood pressure in childhood were found in those offspring whose mothers' weight gain and amount and type of fats in the diet during pregnancy were as recommended. Of note, maternal dietary counseling from early pregnancy onwards could ameliorate the offspring's metabolic status by reducing the risk of high split proinsulin concentration, although it had no effect on the other cardio-metabolic markers in the offspring. At postnatal period breastfeeding proved to entail benefits in cardio-metabolic programming. Finally, the recommended dietary protein and total fat content in the child's diet were important nutritional determinants reducing blood pressure at the age of four years.

The intrauterine and immediate postnatal period comprise a window of opportunity for interventions aiming to reduce the risk of cardio-metabolic disorders and brings the prospect of achieving health benefits over one generation.