The health effects of sea buckthorn berries and oil
Larmo, Petra (2011-01-14)
---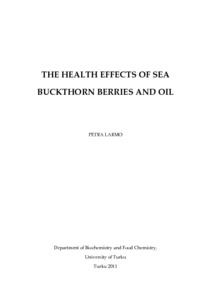 Turun yliopisto
14.01.2011
Julkaisun pysyvä osoite on:
http://urn.fi/URN:ISBN:978-951-29-4460-6
Kuvaus
Siirretty Doriasta
Tiivistelmä
Sea buckthorn (Hippophaë) berries are ingredients of the Chinese traditional medicine. In addition to China, they are nowadays cultivated for food in several European countries, Russia, Canada, the USA, and Japan. Sea buckthorn berries are a rich source of flavonoids, mainly flavonol glycosides and proanthocyanidins. Depending on the genetic background, growth conditions, and ripeness of the berries, vitamin C concentrations up to over 1 g/100 ml juice, have been reported. Sea buckthorn berries contain inositols and methyl inositols, components of messenger molecules in humans. Sea buckthorn seed oil is rich in essential aplha-linolenic and linoleic acids, whereas the most abundant fatty acids in the berry oil are palmitoleic, palmitic and oleic acids. Other potentially beneficial lipophilic compounds of sea buckthorn seeds and berries include carotenoids, phytosterols, tocopherols and tocotrienols.

The effects of sea buckthorn fractions on inflammation, platelet aggregation, oxidation injuries, the liver, skin and mucosa, among others, have been reported. The aim of the thesis work was to investigate the health effects of sea buckthorn berries and oil in humans. The physiological effects of sea buckthorn berries, berry components, and oil have mostly been studied in vitro and in animal models, leaving a demand for more clinical trials.

In the first randomized, placebo-controlled trial of this thesis healthy adults consumed 28 g/day of sea buckthorn berries for three months. The main objective was to investigate the effects on the common cold. In addition, effects on other infections, inflammation and circulating lipid markers associated with cardiovascular disease risk were studied. In the second randomized, placebocontrolled trial participants reporting dry eye symptoms consumed 2 g/day of sea buckthorn oil from the seeds and berries for three months. The effects on symptoms and clinical signs of dry eye were monitored. In addition, the effects on circulating markers of inflammation and liver functions were analyzed. Sea buckthorn berries did not affect the common cold or other infections in healthy
adults. However, a decrease in serum C-reactive protein was detected, indicating effects on inflammation. Fasting concentrations of serum flavonols, typical to sea buckthorn berry, increased without affecting the circulating total, HDL, LDL cholesterol, or triacylglycerol concentrations.

Tear film hyperosmolarity and activation of inflammation at the ocular surface are among the core mechanisms of dry eye. Combined sea buckthorn berry and seed oil attenuated the rise in tear film osmolarity taking place during the cold season. It also positively affected some of the dry eye symptoms. Based on the tear film fatty acid analysis, the effects were not mediated through direct incorporation of sea buckthorn oil fatty acids to tear film lipids. It is likely that the fatty acids, carotenoids, tocopherols and tocotrienols of sea buckthorn oil affected the inflammation of the ocular surface, lacrimal and/or meibomian glands. The effects on the differentiation of meibomian gland cells are also possible. Sea buckthorn oil did not affect the serum concentrations of inflammation markers or liver enzymes investigated. In conclusion, this thesis work suggests positive effects of sea buckthorn berries and oil on inflammation and dry eye, respectively, in humans.