Structural studies on enzymes of biotechnological and biomedical interest
Dhavala, Prathusha (2011)
---
Structural studies on enzymes of biotechnological and biomedical interest
(2011)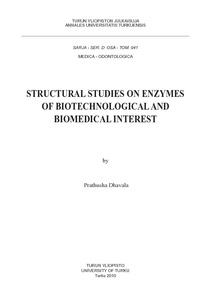 Annales Universitatis Turkuensis D 941 Turun yliopisto
Julkaisun pysyvä osoite on:
https://urn.fi/URN:ISBN:978-951-29-4490-3
Kuvaus
Siirretty Doriasta
Tiivistelmä
Structural studies of proteins aim at elucidating the atomic details of molecular interactions in biological processes of living organisms. These studies are particularly important in understanding structure, function and evolution of proteins and in defining their roles in complex biological settings. Furthermore, structural studies can be used for the development of novel properties in biomolecules of environmental, industrial and medical importance. X-ray crystallography is an invaluable tool to obtain accurate and precise information about the structure of proteins at the atomic level.

Glutathione transferases (GSTs) are amongst the most versatile enzymes in nature. They are able to catalyze a wide variety of conjugation reactions between glutathione (GSH) and non-polar components containing an electrophilic carbon, nitrogen or sulphur atom. Plant GSTs from the Tau class (a poorly characterized class) play an important role in the detoxification of xenobiotics and stress tolerance. Structural studies were performed on a Tau class fluorodifen-inducible glutathione transferase from Glycine max (GmGSTU4-4) complexed with GSH (2.7 Å) and a product analogue Nb-GSH (1.7 Å). The three-dimensional structure of the GmGSTU4-4-GSH complex revealed that GSH binds in different conformations in the two subunits of the dimer: in an ionized form in one subunit and a non-ionized form in the second subunit. Only the ionized form of the substrate may lead to the formation of a catalytically competent complex. Structural comparison between the GSH and Nb-GSH bound complexes revealed significant differences with respect to the hydrogen-bonding, electrostatic interaction pattern, the upper part of -helix H4 and the C-terminus of the enzyme. These differences indicate an intrasubunit modulation between the G-and Hsites suggesting an induced-fit mechanism of xenobiotic substrate binding. A novel binding site on the surface of the enzyme was also revealed.

Bacterial type-II L-asparaginases are used in the treatment of haematopoietic diseases such as acute lymphoblastic leukaemia (ALL) and lymphomas due to their ability to catalyze the conversion of L-asparagine to L-aspartate and ammonia. Escherichia coli and Erwinia chrysanthemi asparaginases are employed for the treatment of ALL for over 30 years. However, serious side-effects affecting the liver and pancreas have been observed due to the intrinsic glutaminase activity of the administered enzymes. Structural studies on Helicobacter pylori L-asparaginase (HpA) were carried out in an effort to discover novel L-asparaginases with potential chemotherapeutic utility in ALL treatment. Detailed analysis of the active site geometry revealed structurally significant differences between HpA and other Lasparaginases that may be important for the biological activities of the enzyme and could be further exploited in protein engineering efforts.