Carbohydrate intake in children - associations with dietary intakes, growth, serum lipids,and dental health. The STRIP Project
Ruottinen, Soile (2011-02-11)
---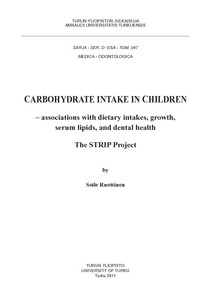 Annales Universitatis Turkuensis D 947 Turun yliopisto
11.02.2011
Julkaisun pysyvä osoite on:
http://urn.fi/URN:ISBN:978-951-29-4524-5
Kuvaus
Siirretty Doriasta
Tiivistelmä
This study is part of the STRIP study, which is a long-term, randomized controlled trial, designed to decrease the exposure of children in the intervention group (n=540) to known risk factors of atherosclerosis. The main focus of the intervention was the quality of dietary fat. The control group (n=522) did not receive any individualized counselling. Food consumption was evaluated with food records, and blood samples were drawn and growth was measured regularly for all participating children from 13 months to 9 years. A subsample of 66 children participated in a dental health survey.

The number of studies on children's carbohydrate intake, especially fibre intake, is insufficient. The current international recommendations for fibre intake in children are based on average assumptions and data extrapolated from intakes in adults and intake recommendations for adults. Finnish nutrition recommendations lack strict recommendations for dietary fibre in children. Due to fibre's high bulk volume, excessive dietary fibre is considered to decrease energy density and hence it may have an adverse effect on growth. If fats are reduced from the diet, the low-fat diet may become high in sucrose. Therefore, especially in the STRIP study, it is important to determine the use of fibre and sucrose in children and possible associations with growth and nutrition as well as dental health.

The results of the present study indicate that a high fibre intake does not displace energy or disturb growth in children and that children with high fibre intake have better quality of diet than those with low fibre intake. Additionally, dietary fibre intake associated inversely with serum cholesterol concentration. Other carbohydrates also affected serum lipid levels as well, since total carbohydrates, sucrose, and fructose increased serum triglyceride concentration. Total carbohydrate intake reduced HDL cholesterol concentration only in children with apoE3 or apoE4 phenotype.

Over the period from the 1970s to the 1990s the dental health of children in Finland has substantially improved despite an increase in sucrose intake. The improvement was thought to be due to improved dental hygiene and the use of fluorine. However, during the past twenty years improvement in dental health has stopped. The present study showed that high long-term sugar intake increases risk of caries in children. High intake of sugar had also negative effects on the diet of children, because it worsens dietary quality by displacing essential nutrients. Furthermore, the quality of dietary fat was worse in children with high sucrose intake. In this study the children's high sucrose intake was not associated with overweight, but interestingly, it associated inversely with growth.