Fibroblast Growth Factor 8 and its Receptors in The Growth and Angiogenesis of Experimental Breast Cancer . With Special Reference to Thrombospondin-1 as a Novel Target Gene for FGF-8
Tarkkonen, Kati (2011-02-25)
---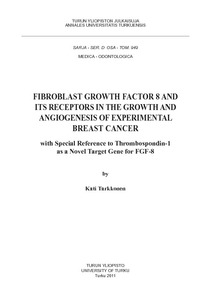 Annales Universitatis Turkuensis D 949 Turun yliopisto
25.02.2011
Julkaisun pysyvä osoite on:
http://urn.fi/URN:ISBN:978-951-29-4536-8
Kuvaus
Siirretty Doriasta
Tiivistelmä
The growth of breast cancer is regulated by hormones and growth factors. Recently, aberrant fibroblast growth factor (FGF) signalling has been strongly implicated in promoting the progression of breast cancer and is thought to have a role in the development of endocrine resistant disease. FGFs mediate their auto- and paracrine signals through binding to FGF receptors 1-4 (FGFR1-4) and their isoforms. Specific targets of FGFs in breast cancer cells and the differential role of FGFRs, however, are poorly described. FGF-8 is expressed at elevated levels in breast cancer, and it has been shown to act as an angiogenic, growth promoting factor in experimental models of breast cancer. Furthermore, it plays an important role in mediating androgen effects in prostate cancer and in some breast cancer cell lines. We aimed to study testosterone (Te) and FGF-8 regulated genes in Shionogi 115 (S115) breast cancer cells, characterise FGF-8 activated intracellular signalling pathways and clarify the role of FGFR1, -2 and -3 in these cells. Thrombospondin-1 (TSP-1), an endogenous inhibitor of angiogenesis, was recognised as a Te and FGF-8 regulated gene. Te repression of TSP-1 was androgen receptor (AR)-dependent. It required de novo protein synthesis, but it was independent of FGF-8 expression. FGF-8, in turn, downregulated TSP-1 transcription by activating the ERK and PI3K pathways, and the effect could be reversed by specific kinase inhibitors. Differential FGFR1-3 action was studied by silencing each receptor by shRNA expression in S115 cells. FGFR1 expression was a prerequisite for the growth of S115 tumours, whereas FGFR2 expression alone was not able to promote tumour growth. High FGFR1 expression led to a growth advantage that was associated with strong ERK activation, increased angiogenesis and reduced apoptosis, and all of these effects could be reversed by an FGFR inhibitor. Taken together, the results of this thesis show that FGF-8 and FGFRs contribute strongly to the regulation of the growth and angiogenesis of experimental breast cancer and support the evidence for FGF-FGFR signalling as one of the major players in breast cancers.