Late effects of cancer at a young age: Registry-based studies of the health of cancer patients and their off-spring
Madanat-Harjuoja, Laura-Maria (2011-03-04)
---
Late effects of cancer at a young age: Registry-based studies of the health of cancer patients and their off-spring
Madanat-Harjuoja, Laura-Maria
(04.03.2011)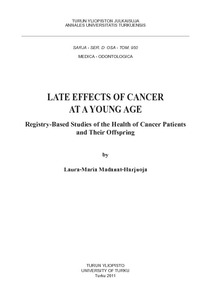 Annales Universitatis Turkuensis D 950 Turun yliopisto
Julkaisun pysyvä osoite on:
https://urn.fi/URN:ISBN:978-951-29-4542-9
Kuvaus
Siirretty Doriasta
Tiivistelmä
Modern cancer therapy has resulted in increased survival among patients diagnosed with cancer at a young age. These improvements have led to the investigation of late morbidity and mortality associated with cancer and its treatments. The aim of this study was to evaluate late effects of cancer treated at a young age on the health of patients and their offspring.

Utilising the nationwide population-based registries in Finland, we evaluated the risk of hypothyroidism and the probability of parenthood in cancer survivors as well as preterm birth, neonatal outcomes, and the risk of cancer among offspring of patients.
The survivor cohort, identified from the Finnish Cancer Registry, consisted of 25,784 cancer patients diag-nosed between ages 0 and 34 in 1953–2004. By linkage to the population register, siblings of these patients were identified for comparison.

The prevalence of hypothyroidism was higher among former childhood cancer (aged 0–16) patients than in the general population. The probability of parenthood following early onset cancer was overall significantly reduced compared to siblings.

Offspring of female cancer survivors were at an increased risk of preterm birth, this risk being highest among patients diagnosed in childhood and early adulthood (aged 20–34 years). The offspring were not, however, at a significantly increased risk of neonatal death or stillbirth, though they were more likely to need monitoring or intensive care in the neonatal period. The risk of sporadic cancer among offspring of male and female cancer survivors was not elevated in comparison to the general population.

The study showed that former cancer patients are at risk of certain adverse endocrine and reproductive health outcomes and should be followed for timely intervention. The offspring of cancer survivors do not appear to be at risk for adverse health outcomes.