Autologous Stem Cell Transplantation In Multiple Myeloma
Putkonen, Mervi (2011-03-11)
---
Autologous Stem Cell Transplantation In Multiple Myeloma
(11.03.2011)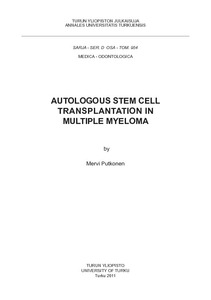 Annales Universitatis Turkuensis D 954 Turun yliopisto
Julkaisun pysyvä osoite on:
https://urn.fi/URN:ISBN:978-951-29-4560-3
Kuvaus
Siirretty Doriasta
Tiivistelmä
Background. Multiple myeloma (MM) is the second most common hematologic malignancy after lymphomas In Finland: the annual incidence of MM is approximately 200. For three decades the median survival remained at 3 to 4 years from diagnosis until high-dose melphalan treatment supported by autologous stem cell transplantation (ASCT) became the standard of care for newly diagnosed MM since the mid 1990's and the median survival increased to 5 – 6 years. This study focuses on three important aspects of ASCT, namely 1) stem cell mobilization, 2) single vs. double ASCT as initial treatment, and 3) the role of minimal residual disease (MRD) for longterm outcome.

Aim. The aim of this series of studies was to evaluate the outcomes of MM patients and the ASCT procedure at the Turku University Central Hospital, Finland. First, we tried to identify which factors predict unsuccessful mobilization of autologous stem cells. Second, we compared the use of short-acting granulocyte-colony stimulating factor (GCSF) with long-acting G-CSF as mobilization agents. Third, one and two successive ASCTs were compared in 100 patients with MM. Fourth, for patients in complete response (CR) after stem cell transplantation (SCT), patient-specific probes for quantitative allele-specific oligonucleotide polymerase-chain reaction (qASO-PCR) measurements were designed to evaluate MRD and its importance for long-term outcome.

Results. The quantity of previous chemotherapy and previous interferon use were significant pre-mobilization factors that predicted mobilization failure, together with some factors related to mobilization therapy itself, such as duration and degree of cytopenias and occurrence of sepsis. Short-acting and long-acting G-CSF combined with chemotherapy were comparable as stem cells mobilizers. The progression free (PFS) and overall survival (OS) tended to be longer after double ASCT than after single ASCT with a median follow-up time of 4 years, but this difference disappeared as the follow-up time increased. qASO-PCR was a good and sensitive divider of the CR patients into two prognostic groups: MRD low/negative (≤ 0.01%) and MRD high (>0.01%) groups with a significant difference in PFS and suggestively also in OS.

Conclusions. When the factors prediciting a poor outcome of stem cell mobilization prevail, it is possible to identify those patients who need specific efforts to maximize the mobilization efficacy. Long-acting pegfilgrastim is a practical and effective alternative to short-acting filgrastim for mobilization therapy. There is no need to perform double ASCT on all eligible patients. MRD assessment with qASO-PCR is a sensitive method for evaluation of the depth of the CR response and can be used to predict long-term outcome after ACST.