The Cellular Oxygen Sensor PHD2 in Cancer Growth
Jokilehto, Terhi (2011-03-11)
---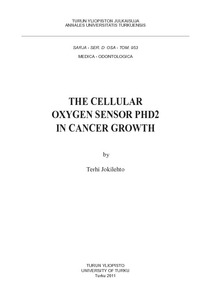 Annales Universitatis Turkuensis D 953 Turun yliopisto
11.03.2011
Julkaisun pysyvä osoite on:
http://urn.fi/URN:ISBN:978-951-29-4556-6
Kuvaus
Siirretty Doriasta
Tiivistelmä
Adequate supply of oxygen is essential for the survival of multicellular organisms. However, in several conditions the supply of oxygen can be disturbed and the tissue oxygenation is compromised. This condition is termed hypoxia. Oxygen homeostasis is maintained by the regulation of both the use and delivery of oxygen through complex, sensitive and cell-type specific transcriptional responses to hypoxia. This is mainly achieved by one master regulator, a transcription factor called hypoxiainducible factor 1 (HIF-1). The amount of HIF-1 is under tight oxygen-dependent control by a family of oxygen-dependent prolyl hydroxylase domain proteins (PHDs) that function as the cellular oxygen sensors. Three family members (PHD1-3) are known to regulate HIF of which the PHD2 isoform is thought to be the main regulator of HIF-1. The supply of oxygen can be disturbed in pathophysiological conditions, such as ischemic disorders and cancer. Cancer cells in the hypoxic parts of the tumors exploit the ability of HIF-1 to turn on the mechanisms for their survival, resistance to treatment, and escape from the oxygen- and nutrient-deprived environment.

In this study, the expression and regulation of PHD2 were studied in normal and cancerous tissues, and its significance in tumor growth. The results show that the expression of PHD2 is induced in hypoxic cells. It is overexpressed in head and neck squamous cell carcinomas and colon adenocarcinomas. Although PHD2 normally resides in the cytoplasm, nuclear translocation of PHD2 was also seen in a subset of tumor cells. Together with the overexpression, the nuclear localization correlated with the aggressiveness of the tumors. The nuclear localization of PHD2 caused an increase in the anchorage-independent growth of cancer cells. This study provides information on the role of PHD2, the main regulator of HIF expression, in cancer progression. This knowledge may prove to be valuable in targeting the HIF pathway in cancer treatment.