Effects of Silica Based Biomaterials on Bone Marrow Derived Cells - Material Aspects of Bone Regeneration
Wilson, Timothy (2011-04-01)
---
Effects of Silica Based Biomaterials on Bone Marrow Derived Cells - Material Aspects of Bone Regeneration
(01.04.2011)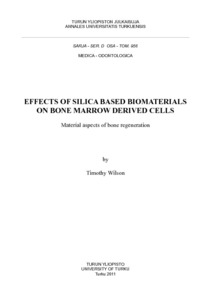 Annales Universitatis Turkuensis D 956 Turun yliopisto
Julkaisun pysyvä osoite on:
https://urn.fi/URN:ISBN:978-951-29-4576-4
Kuvaus
Siirretty Doriasta
Tiivistelmä
Silica based biomaterials, such as melt-derived bioactive glasses and sol-gel glasses, have been used for a long time in bone healing applications because of their ability to form hydroxyapatite and to stimulate stem cell proliferation and differentiation. In this study, bone marrow derived cells were cultured with bioactive glass and sol-gel silica, and seeded into porous polymer composite scaffolds that were then implanted femorally and subcutaneously in rats to monitor their migration inside host tissue. Bone marrow derived cells were also injected intraperitoneally.

Transplanted cells migrated to various tissues inside the host, including the lung, liver spleen, thymus and bone marrow. The method of transplantation affected the time frame of cell migration, with intraperitoneal injection being the fastest and femoral implantation the slowest, but not the target tissues of migration. Transplanted donor cells had a limited lifetime in the host and were later eliminated from all tested tissues. Bioactive glass, however, affected the implanted cells negatively. When it was present in the scaffold no donor cells were found in any of the tested host tissues. Bioactive glass S53P4 was found to support both osteoblastic and osteoclastic phenotype of bone marrow derived cells, but it was resistant to the resorbing effect of osteoclastic bone marrow derived cells, showing that bioactive glass is rather dissolved through physicochemical reactions than resorbed by cells. Fast-dissolving silica sol gel in microparticulate form was found to increase collagen formation by bone marrow derived cells, while slow dissolving silica microparticles enhanced their proliferation, suggesting that the dissolution rate of silica controls the response of bone marrow derived cells.