Studies on Neuromuscular Blocking Agents and Their Antagonists During Anaesthesia
Illman, Hanna (2011-05-07)
---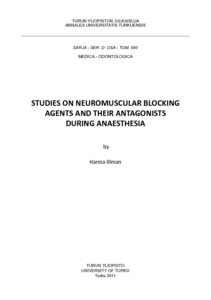 Annales Universitatis Turkuensis D 960 Turun yliopisto
07.05.2011
Julkaisun pysyvä osoite on:
http://urn.fi/URN:ISBN:978-951-29-4597-9
Kuvaus
Siirretty Doriasta
Tiivistelmä
Neuromuscular blocking agents (NMBAs) are widely used in clinical anaesthesia and emergency medicine. Main objectives are to facilitate endotracheal intubation and to allow surgery by reducing muscle tone and eliminating sudden movements, which may otherwise lead to trauma and complications. The most commonly used NMBAs are non-depolarizing agents with a medium duration of action, such as rocuronium and cisatracurium. They bind to the acetylcholine receptors in the neuromuscular junction, thus inhibiting the depolarization of the postsynaptic (muscular) membrane, which is a prerequisite for muscle contraction to take place.

Previously, it has been assumed that nitrous oxide (N2O), which is commonly used in combination with volatile or intravenous anaesthetics during general anaesthesia, has no effect on NMBAs. Several studies have since claimed that N2O in fact does increase the effect of NMBAs when using bolus administration of the relaxant. The effect of N2O on the infusion requirements of two NMBAs (rocuronium and cisatracurium) with completely different molecular structure and pharmacological properties was assessed. A closed-loop feedback controlled infusion of NMBA with duration of at least 90 minutes at a 90% level of neuromuscular block was used. All patients received total intravenous anaesthesia (TIVA) with propofol and remifentanil. In both studies the study group (n=35) received N2O/Oxygen and the control group (n=35) Air/Oxygen. There were no significant differences in the mean steady state infusion requirements of NMBA (rocuronium in Study I; cisatracurium in Study II) between the groups in either study.

In Study III the duration of the unsafe period of recovery after reversal of rocuronium-induced neuromuscular block by using neostigmine or sugammadex as a reversal agent was analyzed. The unsafe period of recovery was defined as the time elapsed from the moment of no clinical (visual) fade in the train-of-four (TOF) sequence until an objectively measured TOF-ratio of 0.90 was achieved. The duration of these periods were 10.3 ± 5.5 and 0.3 ± 0.3 min after neostigmine and sugammadex, respectively (P < 0.001). Study IV investigated the possible effect of reversal of a rocuronium NMB by sugammadex on depth of anaesthesia as indicated by the bispectral index and entropy levels in thirty patients. Sugammadex did not affect the level of anaesthesia as determined by EEG-derived indices of anaesthetic depth such as the bispectral index and entropy.