Use of pyrosequencing to identify streptococci and to detect mutations causing antimicrobial resistance
Haanperä-Heikkinen, Marjo (2011-05-13)
---
Use of pyrosequencing to identify streptococci and to detect mutations causing antimicrobial resistance
Haanperä-Heikkinen, Marjo
(13.05.2011)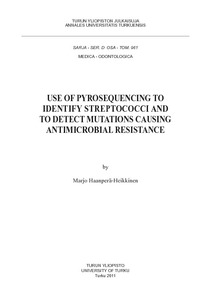 Annales Universitatis Turkuensis D 961 Turun yliopisto
Julkaisun pysyvä osoite on:
https://urn.fi/URN:ISBN:978-951-29-4599-3
Kuvaus
Siirretty Doriasta
Tiivistelmä
Rapid identification and resistance determination of pathogens in clinical specimens is vital for accurate treatment and monitoring of infectious diseases. Antimicrobial drug resistance is increasing globally and healthcare settings are facing this cost-intensive and even life-threatening problem. The incidence of resistant pathogens in Finland has remained relatively steady and manageable at least for the time being.

DNA sequencing is the gold standard method for genotyping, mutation analysis, and identification of bacteria. Due to significant cost decrease in recent years, this technique is available to many research and clinical laboratories. Pyrosequencing technique, a rapid real-time DNA sequencing method especially suitable for analyzing fairly short stretches of DNA, was used in this study. Due to its robustness and versatility, pyrosequencing was applied in this study for identification of streptococci and detection of certain mutations causing antimicrobial resistance in different bacteria.

Certain streptococcal species such as S. pneumoniae and S. pyogenes are significantly important clinical pathogens. S. pneumoniae causes e.g. pneumonia and otitis media and is one of the most important community-acquired pathogens. S. pyogenes, also known as group A streptococcus, causes e.g. angina and erysipelas. In contrast, the socalled alpha-haemolytic streptococci, such as S. mitis and S. oralis, belong to the normal microbiota, which are regarded to be non-pathogenic and are nearly impossible to identify by phenotypic methods. In this thesis, a pyrosequencing method was developed for identification of streptococcal species based on the 16S rRNA sequences. Almost all streptococcal species could be differentiated from one another by the developed method, including S. pneumoniae from its close relatives S. mitis and S. oralis .

New resistance genes and their variants are constantly discovered and reported. In this study, new methods for detecting certain mutations causing macrolide resistance or extended spectrum beta-lactamase (ESBL) phenotype were developed. These resistance detection approaches are not only suitable for surveillance of mechanisms causing antimicrobial resistance but also for routine analysis of clinical samples particularly in epidemic settings.

In conclusion, pyrosequencing was found to be an accurate, versatile, cost-effective, and rapid DNA sequencing method that is especially suitable for mutation analysis of short DNA fragments and identification of certain bacteria.