Reading Development During Elementary School Years. Evidence from Eye Movements
Häikiö, Tuomo (2011-05-21)
---
Reading Development During Elementary School Years. Evidence from Eye Movements
(21.05.2011)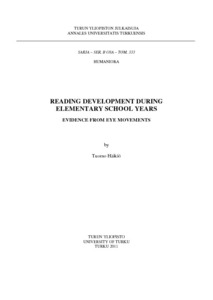 Turun yliopisto Annales Universitatis Turkuensis B 333
Julkaisun pysyvä osoite on:
https://urn.fi/URN:ISBN:978-951-29-4614-3
Kuvaus
Siirretty Doriasta
Tiivistelmä
The present dissertation examined reading development during elementary school years by means of eye movement tracking. Three different but related issues in this field were assessed. First of all, the development of parafoveal processing skills in reading was investigated. Second, it was assessed whether and to what extent sublexical units such as syllables and morphemes are used in processing Finnish words and whether the use of these sublexical units changes as a function of reading proficiency. Finally, the developmental trend in the speed of visual information extraction during reading was examined.

With regard to parafoveal processing skills, it was shown that 2nd graders extract letter identity information approx. 5 characters to the right of fixation, 4th graders approx. 7 characters to the right of fixation, and 6th graders and adults approx. 9 characters to the right of fixation. Furthermore, it was shown that all age groups extract more parafoveal information within compound words than across adjectivenoun pairs of similar length. In compounds, parafoveal word information can be extracted in parallel with foveal word information, if the compound in question is of high frequency. With regard to the use of sublexical units in Finnish word processing, it was shown that less proficient 2nd graders use both syllables and morphemes in the course of lexical access. More proficient 2nd graders as well as older readers seem to process words more holistically. Finally, it was shown that 60 ms is enough for 4th graders and adults to extract visual information from both 4-letter and 8-letter words, whereas 2nd graders clearly needed more than 60 ms to extract all information from 8- letter words for processing to proceed smoothly.

The present dissertation demonstrates that Finnish 2nd graders develop their reading skills rapidly and are already at an adult level in some aspects of reading. This is not to say that there are no differences between less proficient (e.g., 2nd graders) and more proficient readers (e.g., adults) but in some respects it seems that the visual system used in extracting information from the text is matured by the 2nd grade. Furthermore, the present dissertation demonstrates that the allocation of attention in reading depends much on textual properties such as word frequency and whether words are spatially unified (as in compounds) or not. This flexibility of the attentional system naturally needs to be captured in word processing models. Finally, individual differences within age groups are quite substantial but it seems that by the end of the 2nd grade practically all Finnish children have reached a reasonable level of reading proficiency.