Nuclear Matrix in Apoptotic Cell Death and Cell Proliferation. The role of Nuclear Mitotic Apparatus (NuMA) Protein
Kivinen, Katri (2011-06-03)
---
Nuclear Matrix in Apoptotic Cell Death and Cell Proliferation. The role of Nuclear Mitotic Apparatus (NuMA) Protein
(03.06.2011)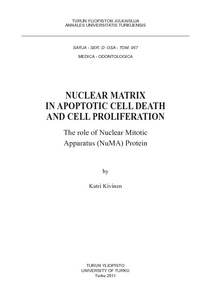 Annales Universitatis Turkuensis D 967 Turun yliopisto
Julkaisun pysyvä osoite on:
https://urn.fi/URN:ISBN:978-951-29-4647-1
Kuvaus
Siirretty Doriasta
Tiivistelmä
The nucleus is a membrane enclosed organelle containing most of the genetic information of the cell in the form of chromatin. The nucleus, which can be divided into many sub-organelles such as the nucleoli, the Cajal bodies and the nuclear lamina, is the site for several essential cellular functions such as the DNA replication and its regulation and most of the RNA synthesis and processing. The nucleus is often affected in disease: the size and the shape of the nucleus, the chromatin distribution and the size of the nucleoli have remained the basis for the grading of several cancers.

The maintenance of the vertebrate body shape depends on the skeleton. Similarly, in a smaller context, the shape of the cell and the nucleus are mainly regulated by the cytoskeletal and nucleoskeletal elements. The nuclear matrix, which by definition is a detergent, DNase and salt resistant proteinaceous nuclear structure, has been suggested to form the nucleoskeleton responsible for the nuclear integrity. Nuclear mitotic apparatus protein, NuMA, a component of the nuclear matrix, is better known for its mitotic spindle organizing function. NuMA is one of the nuclear matrix proteins suggested to participate in the maintenance of the nuclear integrity during interphase but its interphase function has not been solved to date.

This thesis study concentrated on the role of NuMA and the nuclear matrix as structural and functional components of the interphase nucleus. The first two studies clarified the essential role of caspase-3 in the disintegration of the nuclear structures during apoptosis. The second study also showed NuMA and chromatin to co-elute from cells in significant amounts and the apoptotic cleavage of NuMA was clarified to have an important role in the dissociation of NuMA from the chromatin. The third study concentrated on the interphase function of NuMA showing NuMA depletion to result in cell cycle arrest and the cytoplasmic relocalization of NuMA interaction partner GAS41. We suggest that the relocalization of the transcription factor GAS41 may mediate the cell cycle arrest. Thus, this study has given new aspects in the interactions of NuMA, chromatin and the nuclear matrix.