Functional studies on bacterial nucleotide-regulated inorganic pyrophosphatases
Jämsén, Joonas (2011-06-23)
---
Functional studies on bacterial nucleotide-regulated inorganic pyrophosphatases
(23.06.2011)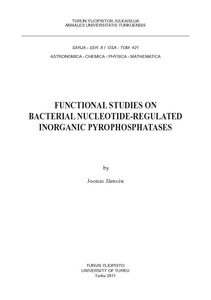 Turun yliopisto Annales Universitatis Turkuensis A I 421
Julkaisun pysyvä osoite on:
https://urn.fi/URN:ISBN:978-951-29-4660-0
Kuvaus
Siirretty Doriasta
Tiivistelmä
CBS domains are ~60 amino acid tandemly repeated regulatory modules forming a widely distributed domain superfamily. Found in thousands of proteins from all kingdoms of life, CBS domains have adopted a variety of functions during evolution, one of which is regulation of enzyme activity through binding of adenylate-containing compounds in a hydrophobic cavity. Mutations in human CBS domain-containing proteins cause hereditary diseases.

Inorganic pyrophosphatases (PPases) are ubiquitous enzymes, which pull pyrophosphate (PPi) producing reactions forward by hydrolyzing PPi into phosphate. Of the two nonhomologous soluble PPases, dimeric family II PPases, belonging to the DHH family of phosphoesterases, require a transition metal and magnesium for maximal activity. A quarter of the almost 500 family II PPases, found in bacteria and archaea, contain a 120-250 amino acid N-terminal insertion, comprised of two CBS domains separated in sequence by a DRTGG domain. These enzymes are thus named CBS-PPases. The function of the DRTGG domain in proteins is unknown.

The aim of this PhD thesis was to elucidate the structural and functional differences of CBS-PPases in comparison to family II PPases lacking the regulatory insert. To this end, we expressed, purified and characterized the CBS-PPases from Clostridium perfringens (cpCBS-PPase) and Moorella thermoacetica (mtCBS-PPase), the latter lacking a DRTGG domain. Both enzymes are homodimers in solution and display maximal activity against PPi in the presence of Co2+ and Mg2+. Uniquely, the DRTGG domain was found to enable tripolyphosphate hydrolysis at rates similar to that of PPi. Additionally, we found that AMP and ADP inhibit, while ATP and AP4A activate CBSPPases, thus enabling regulation in response to changes in cellular energy status.

We then observed substrate- and nucleotide-induced conformational transitions in mtCBS-PPase and found that the enzyme exists in two differentially active conformations, interconverted through substrate binding and resulting in a 2.5-fold enzyme activation. AMP binding was shown to produce an alternate conformation, which is reached through a different pathway than the substrate-induced conformation. We solved the structure of the regulatory insert from cpCBS-PPase in complex with AMP and AP4A and proposed that conformational changes in the loops connecting the catalytic and regulatory domains enable activity regulation. We examined the effects of mutations in the CBS domains of mtCBS-PPase on catalytic activity, as well as, nucleotide binding and inhibition.