Potential of the Osteoclast's Proton Pump as a Drug Target in Osteoporosis
Nyman, Jonas (2011-08-19)
---
Potential of the Osteoclast's Proton Pump as a Drug Target in Osteoporosis
(19.08.2011)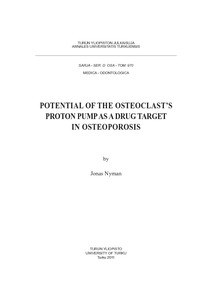 Annales Universitatis Turkuensis D 970 Turun yliopisto
Julkaisun pysyvä osoite on:
https://urn.fi/URN:ISBN:978-951-29-4669-3
Kuvaus
Siirretty Doriasta
Tiivistelmä
Decreasing bone mass during aging predisposes to fractures and it is estimated that every second woman and one in five men will suffer osteoporotic fractures during their lifetime. Bone is an adaptive tissue undergoing continuous remodeling in response to physical and metabolic stimuli. Bone mass decreases through a net negative balance in the bone remodeling process of bone, in which the new bone incompletely replaces the resorbed bone mass. Bone resorption is carried out by the osteoclasts; the bone mineral is solubilized by acidification and the organic matrix is subsequently degraded by proteases. Several classes of drugs are available for prevention of osteoporotic fractures. They act by different mechanisms to increase bone mass, and some of them act mainly as antiresorptives by inhibition of osteoclast formation or their function.

Optimally, a drug should act selectively on a specific process, since other processes affected usually result in adverse effects. The purpose of this study was to evaluate whether the osteoclastic vacuolar adenosine trisphosphatases (V-ATPase), which drives the solubilization of bone mineral, can be selectively inhibited despite its ubiquitous cellular functions. The V-ATPase is a multimeric protein composed of 13 subunits of which six possesses two or more isoforms. Selectivity for the osteoclastic V-ATPase could be provided if it has some structural uniqueness, such as a unique isoform combination. The a3 isoform of the 116kDa subunit is inevitable for bone resorption; however, it is also present in, and mainly limited to, the lysosomes of other cells. No evidence of a structural uniqueness of the osteoclastic V-ATPase compared to the lysosomal V-ATPase was found, although this can not yet be excluded. Thus, an inhibitor selective for the a3 isoform would target the lysosomal V-ATPase as well. However, the results suggest that selectivity for bone resorption over lysosomal function can be obtained by two other mechanisms, suggesting that isoform a3 is a valid target. The first is differential compensation; bone resorption depends on the high level of a3 expression, and is not compensated for by other isoforms, while the lower level of a3 in lysosomes of other cells may be partly compensated for. The second mechanism is because the bone resorption process itself is fundamentally different from lysosomal acidification because of the chemistry of bone dissolution and the anatomy of the resorbing osteoclast. By this mechanism, full inhibition of bone resorption is obtained with more than tenfold lower inhibitor concentration than those needed to fully inhibit lysosomal acidification. The two mechanisms are additive.

Based on the results, we suggest that bone resorption can be selectively inhibited if VATPase inhibitors that are sufficiently selective for the a3 isoform over the other isoforms are developed.