Kainic acid-induced seizures: inflammation and excitotoxic neuronal damage in the developing rat hippocampus
Järvelä, Juha (2011-08-26)
---
Kainic acid-induced seizures: inflammation and excitotoxic neuronal damage in the developing rat hippocampus
(26.08.2011)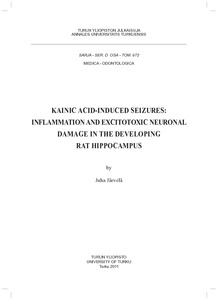 Annales Universitatis Turkuensis D 972 Turun yliopisto
Julkaisun pysyvä osoite on:
https://urn.fi/URN:ISBN:978-951-29-4678-5
Kuvaus
Siirretty Doriasta
Tiivistelmä
Epileptic seizures are harmful to the developing brain. During epileptic seizures, overactivation of glutamate receptors (GluR) leads to neuronal degeneration, defined as excitotoxicity. The hippocampus is especially vulnerable to excitotoxic neuronal death, but its mechanism has remained incompletely known in the developing brain. Recently, signs of activation of inflammatory processes after epileptic seizures have been detected in the hippocampus. The purpose of this thesis was to study the inflammatory reaction and death mechanisms in excitoxic neurodegeneration induced by the glutamate analogue kainic acid (KA) in the developing hippocampus. Organotypic hippocampal slice cultures (OHCs), prepared from 6-7-day-old rats (P6-7) and treated with KA, served as an in vitro model. KA-induced status epilepticus in P9 and P21 rats was used as an in vivo model. The results showed that the pyramidal cell layers of the hippocampus were the most susceptible to irreversible and age-specific neurodegeneration, which occurred in the juvenile (P21), but not in the immature (P9), rat hippocampus. The primary death mechanism was necrosis as there were no significant changes in the expression of selected apoptosis markers and morphological cellular features of necrosis were found. Inflammatory response was similarly age-dependent after KA treatment as a rapid, fulminant and wide response was detected in the juvenile, but not in the immature, rat brain. An anti-inflammatory drug treatment, given before KA, was not neuroprotective in OHCs, possibly because of the timing of the treatment. In summary, the results suggest that KA induces an age-dependent inflammatory response and necrotic neurodegeneration, which may cause disturbances in hippocampal connectivity and promote epileptogenesis.