NADPH-Dependent Thioredoxin System In Regulation of Chloroplast Functions
Lepistö, Anna (2011-09-23)
---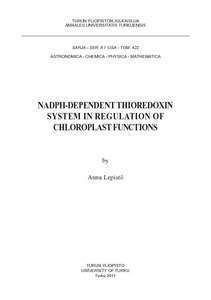 Turun yliopisto Annales Universitatis Turkuensis A I 422
23.09.2011
Julkaisun pysyvä osoite on:
http://urn.fi/URN:ISBN:978-951-29-4695-2
Kuvaus
Siirretty Doriasta
Tiivistelmä
Photosynthesis, the process in which carbon dioxide is converted into sugars using the energy of sunlight, is vital for heterotrophic life on Earth. In plants, photosynthesis takes place in specific organelles called chloroplasts. During chloroplast biogenesis, light is a prerequisite for the development of functional photosynthetic structures. In addition to photosynthesis, a number of other metabolic processes such as nitrogen assimilation, the biosynthesis of fatty acids, amino acids, vitamins, and hormones are localized to plant chloroplasts. The biosynthetic pathways in chloroplasts are tightly regulated, and especially the reduction/oxidation (redox) signals play important roles in controlling many developmental and metabolic processes in chloroplasts. Thioredoxins are universal regulatory proteins that mediate redox signals in chloroplasts. They are able to modify the structure and function of their target proteins by reduction of disulfide bonds. Oxidized thioredoxins are restored via the action of thioredoxin reductases. Two thioredoxin reductase systems exist in plant chloroplasts, the NADPHdependent thioredoxin reductase C (NTRC) and ferredoxin-thioredoxin reductase (FTR). The ferredoxin-thioredoxin system that is linked to photosynthetic light reactions is involved in light-activation of chloroplast proteins. NADPH can be produced via both the photosynthetic electron transfer reactions in light, and in darkness via the pentose phosphate pathway. These different pathways of NADPH production enable the regulation of diverse metabolic pathways in chloroplasts by the NADPH-dependent thioredoxin system.

In this thesis, the role of NADPH-dependent thioredoxin system in the redox-control of chloroplast development and metabolism was studied by characterization of Arabidopsis thaliana T-DNA insertion lines of NTRC gene (ntrc) and by identification of chloroplast proteins regulated by NTRC. The ntrc plants showed the strongest visible phenotypes when grown under short 8-h photoperiod. This indicates that i) chloroplast NADPH-dependent thioredoxin system is non-redundant to ferredoxinthioredoxin system and that ii) NTRC particularly controls the chloroplast processes that are easily imbalanced in daily light/dark rhythms with short day and long night. I identified four processes and the redox-regulated proteins therein that are potentially regulated by NTRC; i) chloroplast development, ii) starch biosynthesis, iii) aromatic amino acid biosynthesis and iv) detoxification of H2O2. Such regulation can be achieved directly by modulating the redox state of intramolecular or intermolecular disulfide bridges of enzymes, or by protecting enzymes from oxidation in conjunction with 2-cysteine peroxiredoxins. This thesis work also demonstrated that the enzymatic antioxidant systems in chloroplasts, ascorbate peroxidases, superoxide dismutase and NTRC-dependent 2-cysteine peroxiredoxins are tightly linked up to prevent the detrimental accumulation of reactive oxygen species in plants.