Antimicrobial Resistance in Campylobacter jejuni and Campylobacter coli
Lehtopolku, Mirva (2011-09-23)
---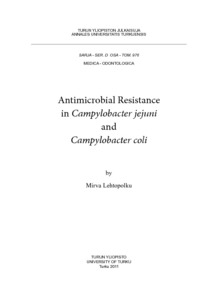 Annales Universitatis Turkuensis D 976 Turun yliopisto
23.09.2011
Julkaisun pysyvä osoite on:
http://urn.fi/URN:ISBN:978-951-29-4719-5
Kuvaus
Siirretty Doriasta
Tiivistelmä
Antimicrobial Resistance in Campylobacter jejuni and Campylobacter coli

Campylobacters are a common cause of bacterial gastroenteritis worldwide, with Campylobacter jejuni and C. coli being the most common species isolated in human infections. If antimicrobial treatment is required, the drugs of choice at the moment are the macrolides and fluoroquinolones. In this thesis, the in vitro resistance profiles of the C. jejuni and C. coli strains were evaluated with emphasis on multidrug resistance. The aim was also to evaluate the different resistance mechanisms against the macrolides. Further, the disk diffusion method was compared to agar dilution method and its repeatability was evaluated, since it has been widely used for the susceptibility testing of campylobacters.

The results of the present study showed that resistance to the fluoroquinolones is common in strains isolated from Finnish patients, but resistance to the macrolides is still rare. Multidrug resistance was associated with resistance to both ciprofloxacin and erythromycin. Among the available per oral drugs, least resistance was observed to coamoxiclav There was no resistance to the carbapenems. Sitafloxacin and tigecycline were in vitro highly effective towards Campylobacter species. A point mutation A2059G of the 23S rRNA gene was the main mechanism behind the macrolide resistance, whereas the efflux pumps did not seem to play an important role when a strain had A2059G mutation. A five amino acids insertion, which has not been described previously, in the ribosomal protein L22 of one highly-resistant C. jejuni strain without mutation in the 23S rRNA gene was also detected. Concerning the disk diffusion method, there was variation in the repeatability

In conclusion, macrolides still appear to be the first-choice alternative for suspected Campylobacter enteritis. The in vitro susceptibilities found suggest that co-amoxiclav might be a candidate for clinical trials on campylobacteriosis, but in life-threatening situations, a carbapenem may be the drug of choice. More studies are needed on whether the disk diffusion test method could be improved or whether all susceptibilities of campylobacters should be done using a MIC based method.